Address:
479 New North Rd, Kingsland
Phone:
(09) 845 1680
Cuisine:
French - creperie and cafe
Rating:
6.5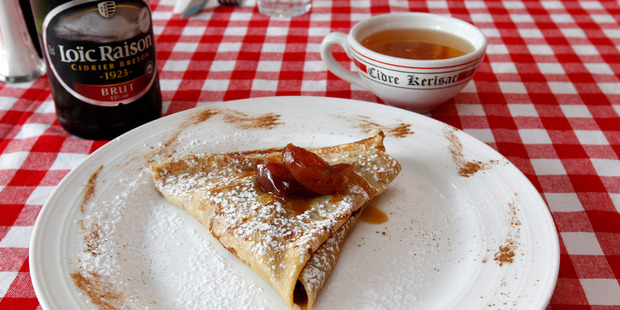 Fancy a trip to Paris where the streets are littered with charming little local bistros that beckon with their warm yellow lighting and cutesy tables and chairs?
That's always the dream, isn't it, when the reality is that you can find yourself stomping the streets for hours in an attempt to find a place that's not heaving with tourists, chewing on tough steak frites and left wondering where all the romance has gone. Local knowledge is key so here's my travel tip: stay at home and visit one of the many small creperies or bistros that have sprung up in our city over the last decade. They do a good job of recreating the authentic style of a basic French eatery, if you ask me. One of the first, Bouchon, was in Kingsland and it became a family favourite with its French-speaking staff and humble cuisine, but over time it went off the boil so we drifted - and so did it. Now Le Garde-Manger has moved in to the location, opening a sister restaurant to its upper Queen St address. When I reviewed the Queen St location a while back, I was complimentary of the cosy surrounds but less so of the food. Arriving at the Kingsland address I wondered if the reverse would turn out to be true - bad ambience but good food. The dining room was cold, musty and, empty and held little promise of a cosy night, but I decided to suspend judgment, and good thing I did.
The food, for the most part, was splendid. The menu sticks with the formula of offering typical bistro dishes as well as a line-up of crepes and galettes. We went straight for the classics and structured it around the fixe prix menu, making it one of the most affordable three-course meals in town at $32.
French onion soup arrived topped with toasted croutons oozing with cheese and the hearty soup full of the sweet flavour of slowly rendered onions, decent beef stock and plenty of black pepper. Suddenly the room seemed to have warmed up nicely, the soup providing an internal fire for our souls.
Braised and casserole dishes are best eaten the day after cooking, having had time for the flavours to deepen and settle into each other, so I'd checked before we ordered our mains. It was worth it - both the coq au vin and beef bourguignon had been prepared the day prior and were dark, rich and tasting of a French countryside. Chicken meat, stained purple from the wine and brown from the stock, fell from the bones, and thick lardons of bacon imbued their smoky flavour in the coq au vin. Button mushrooms and small sweet onions joined the comforting soiree. The beef bourguignon was equally as full-on, with tender chunks of meat drenched in red wine along with carrots, turnips and potatoes. If anything, it was too rich - my dining pal nearly keeled over with the heady aroma, ample portion and rich gravy!
These were rustic dishes, rich, slow-cooked and tender on the tongue. Next time I'd give the rabbit and lamb dishes a try because as these were being ferried past our table, their delicious aroma teased us.
A shallow bowl of gratin dauphinois was a dream of layered waxy potatoes, butter and cream, with black pepper sharpening the flavour. It was gorgeous.
Desserts were part of the set menu, otherwise I think we'd have given them a miss given how hefty our first two courses had been. Then again, I can never go past a tarte Tatin. However, this one was overcooked, making it bitter. And serving it with standard, watery icecream cheapened it.
I wish the Le Garde-Manger team would take their desserts more seriously. The last time I had exactly the same complaint of the tarte Tatin: overcooked. The creme brulee was a better effort - delicately set, erring on being cream rather than egg-driven and flecked with vanilla seeds from genuine vanilla pods.
The service was charming, even if the surrounds were not, and by the time we left, the tables had begun to fill up. There was even a young man sitting outside sporting a beret and smoking, which added to the ambience somewhat.
This second Le Garde-Manger is an honest attempt at a humble French eatery with food that is well-executed, affordable and guaranteed to keep alive the romance of France on a cold winter's night.


From the menu: Three-course prix fixe menu $32 each - French onion soup, Coq au vin, Beef bourguignon, Creme brulee, Tarte Tatin
Drinks: Fully licensed
- VIVA