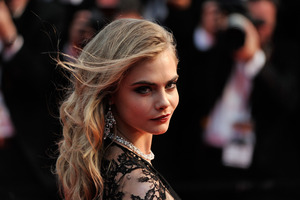 Cara Delevingne is the new face of Fendi.
The British model has a strong relationship with Fendi designer Karl Lagerfeld, as she helped promote his capsule collection for Melissa footwear earlier this year.
She has now been chosen to front Fendi's Autumn/Winter 13 line, with fellow model Saskia De Brauw also appearing in the shots. The campaign is called Roman Skyline and the women are seen posing on a rooftop in multi-coloured heels. The furs which appeared on the label's catwalk also feature, with Cara holding a clutch bag in grey, white and purple fur in one shot.
"For our 2013-2014 Fall/Winter season, we sought to celebrate the love between Fendi and Rome with a very feminine campaign evoking a chic and modern Roman holiday," Karl explained.
The creative director went behind the lens to shoot the campaign, which he has been doing more and more recently.
Cara famously walked the runway for Fendi at Milan Fashion Week in early 2013.
She wore a Mohawk in purple fur and the same monochrome shoes with orange flashes that she sports in the new campaign.
The model and designer have teamed up several times already this year, with Cara appearing in a promotional video for Chanel - another of Karl's design houses. In the promo she is seen clutching a doll which looks just like the iconic designer.
She also praised him after shooting the Melissa shoes campaign, for which Karl created a line of plastic footwear.
"The shoes are amazing, and they smell so good," Cara gushed at the time.
"In one of the photos, I'm drinking champagne out of them, so I got to know them pretty well."
- COVER MEDIA