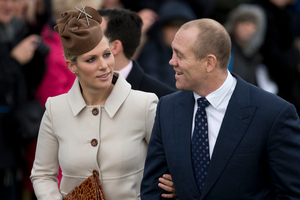 Zara Phillips insists she will carry on competing in top class horse trials despite being pregnant.
The 32-year-old granddaughter of the Queen, who was part of the Olympic medal-winning British eventing team last summer, is expecting her first baby with husband Mike Tindall in the New Year, Buckingham Palace announced overnight.
Although the NHS advises pregnant women not to continue with "inherently risky" sports such as horse riding, former world champion Miss Phillips was competing at the Barbury International Horse Trials at the weekend.
Miss Phillips, who is believed to be three months pregnant, came off her horse at one point, but was later described as "fine". Yesterday a spokesman for Miss Phillips, as she is still known professionally, said she would carry on competing for several weeks at least. She is currently entered into three events later this month, with rides on six horses.
"She will definitely be back in the saddle soon. It's business as usual at the moment," the spokesman said.
"She is entered into several events, but as with any rider, they treat each event on a case-by-case basis and if she pulls out of an event it will be because the horse isn't ready, rather than her."
But she later warned: "As you can imagine she is following all medical advice from her doctors. She is being sensible about this and is listening to what the doctors are telling her.
"She couldn't be happier about the baby and would never put her pregnancy in jeopardy."
Miss Phillips is well aware of the dangers of riding. She broke her collarbone in 2008 after she came off her horse at an event in France. The animal, Tsunami II, broke its neck and was killed in the fall.
Two years previously her close friend, world-class rider Sherelle Duke, died when her horse fell on top of her during a competition.
The Queen was said to be "delighted" about another addition to her family, as were the parents of Miss Phillips and Tindall.
A spokesman for David Cameron said he would "send his very, very best wishes to the happy couple:".
Later Tindall, a former England rugby captain, joked on Twitter: "Thanks for all the kind messages, we are very excited and I agree with you all that hopefully he/she won't have my nose."
The child will be 16th in line to the throne following the birth of the Duke and Duchess of Cambridge's first baby later this month. It is believed Miss Phillips's mother, Princess Anne, rode until she was 34 weeks pregnant.
- DAILY MAIL