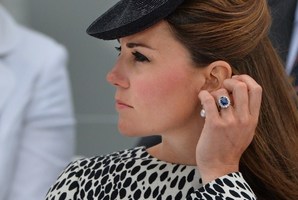 Prime Minister John Key has joked that the country's gift for the royal baby will be the man he crossed swords with in a select committee hearing last week.
"We're giving them Kim Dotcom," Mr Key quipped while stepping down from the lectern at post-Cabinet conference today after a series of questions on the likely gift for the imminent royal birth.
Mr Key gave a confused nod - head shake when asked if the gift was a Buzzy Bee pull-along toy.
"No," he said.
It's the first time Mr Key has given any significant comment on the gift for Prince William and Kate Middleton's first child, although he hasn't let slip what the gift will actually be.
He said Cabinet Office had come up with the idea for the gift and had run it past him and the royal household.
He was able to veto a gift if he didn't think it was "that flash", Mr Key said.
He was asked if it was a pearl encrusted rattle and he replied: "Well it's not that", but he did say it was "special".
When asked if it was a stuffed Kiwi, he replied: "it's a step up from a stuffed Kiwi".
Mr Key has maintained it would be "inappropriate" to announce any gift prior to the baby's arrival.
Prince William was given a fine lace shawl for his christening in 1982. It was designed, spun and knitted by craft artist Margaret Stove.
William was also given a Buzzy Bee pull-along toy when he came to New Zealand as a toddler.
Former Australian prime minister Julia Gillard created a storm last month when she appeared in the Australian Women's Weekly knitting a toy kangaroo for the royal baby.
Antiseptic cream company Sudocrem has commissioned celebrity jewellery designer Theo Fennell to create a lavish baby gift, worth over NZ$19,000 - a jewel-encrusted, 18-carat white gold charm bracelet with an inbuilt nappy rash-cream holder.
The Finnish government has given the couple a care package that includes condoms, leggings, hairbrush and nappy-rash cream. Expectant mothers in Finland are given the same box.
The baby is believed to be due any day now, with media having long ago marked out territory outside the Lindo Wind of St Mary's Hospital in Paddington, London.
The Queen has stationed a private chartered helicopter at Prince William's RAF base in Anglesey so he can reach London on time for the birth of his first child.
Ostetrician Marcus Setchell will be alerted on his specially-encrypted mobile phone by the Royal couple's private secretary, Jamie Lowther-Pinkerton.
According to the hospital's website, a normal delivery package costs NZ$9600 for the first 24 hours, rising to NZ$12,410 for the first 24 hours of a caesarean birth.
- Additional reporting by AP
- APNZ