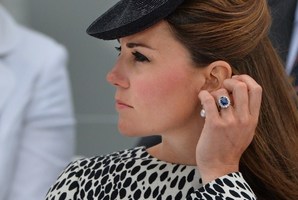 Prime Minister John Key is tight-lipped on the gift New Zealand will send the Duke and Duchess of Cambridge when their child is born.
Mr Key said it would be "inappropriate'' to announce any gift prior to the baby's arrival.
A spokesperson for Mr Key said when Prince William was born, New Zealand gave him a fine lace shawl, designed, spun and knitted by Margaret Stove.
Known as the bush bouquet shawl and featuring New Zealand plant patterns, the shawl was actually presented as a gift at Prince William's christening in 1982.
William was also given a Buzzy Bee pull-along toy when he came to New Zealand as a toddler.
Former Australian prime minister Julia Gillard created a storm last month when she appeared in the Australian Women's Weekly knitting a toy kangaroo for the royal baby.
Antiseptic cream company Sudocrem has commissioned celebrity jewellery designer Theo Fennell to create a lavish baby gift, worth over NZ$19,000 - a jewel-encrusted, 18-carat white gold charm bracelet with an inbuilt nappy rash-cream holder.
The Finnish Government has given the couple a care package that includes condoms, leggings, hairbrush and nappy rash cream. Expectant mothers in Finland are given the same box.
There has been much speculation about the due date of the baby.
In 1982 Diana, Princess of Wales, is said to have leaked a false date to the media, claiming that William was due on her 21st birthday, July 1, when in fact he arrived 10 days earlier on June 21.
Media believe the Duke and Duchess of Cambridge may be using a similar tactic, causing the world's media to assemble in advance outside the Lindo Wing of St Mary's Hospital in Paddington, London, where the Duchess will give birth.
A notice by the main entrance of St Mary's appeared this week, block-booking four parking spaces for the entire month for an unnamed event. The hospital's taxi rank has also been suspended until July 15.
The due date is believed to be any time from July 11 to July 17, but suspicions have been raised the birth could be as early as this weekend.
It has been reported Prince William will not be taking any time off from his duties at RAF Valley on Anglesey before the birth, but when Kate goes into labour, a helicopter will be on standby to take him to London.
- APNZ