Each week, Wendyl Nissen takes a packaged food item and decodes what the label tells you about its contents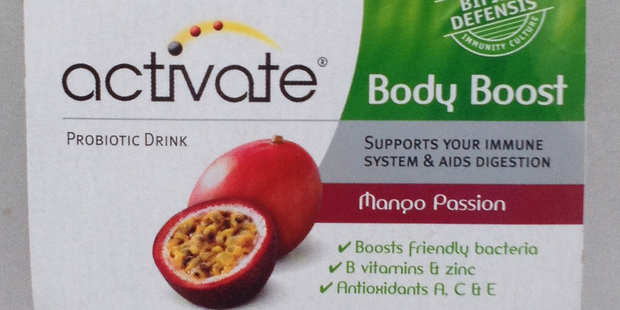 I recently returned from China with some "issues" in the digestive department. I self-diagnosed my problem as having a deficit of good bacteria in my gut and so scanned the supermarket shelves for a product which might change the microflora balance.
I came home with this product and found that things did settle down for a while but when I read the ingredients list I was surprised at the number of additives so opted for a Kefir yoghurt drink instead.
And while researching this product I discovered that the jury is out on whether drinks containing probiotics such as these work.
There is much work going on at the European Food Standards Agency as its scientists work to prove the health claims commonly associated with these drinks. And there is much work going on by the manufacturers producing these products to prove that they work through advertising.
If you return from overseas with a stomach complaint the Ministry of Health advises that you consult your doctor.
Ingredients
• Water
• Skim milk - This product has a milky taste and consistency which will be due to this skim milk.
• Sugar - This tastes sweet and is reasonably high in sugar at 8g per 100ml serve which is nearly 2 teaspoons of sugar per serve.
• Mango puree (5 per cent) - This is mango made into a puree and at 5 per cent comes in at about 5mls per bottle.
• Fruit juice (passionfruit (1.2 per cent) lime) - Very small amounts of passionfruit and lime in here for flavour.
• Cream - This will help keep the liquid thick.
• Thickeners (1440,440,415) - These will also be in here to keep the liquid thick and are hydroxy propylstarch (1440) which is a treated starch, pectin (440) and xanthan gum (415).
• Prebiotic (oligosaccharides) - These are simple sugars which when consumed the undigested part can feed intestinal microflora. But it depends on what type of oligosaccharide whether the bacterial groups are stimulated or suppressed.
• Vitamins and Minerals (C, B3, E, A, B5, B1, B6, zinc). - Nice to know that this product has been supplemented with vitamins and minerals and the nutrition panel tells us that the amounts of each in every serve will give you 25 per cent or your recommended daily dietary intake.
• Flavours - These will be artificial as there is no mention of "natural flavours" in this list, which is a shame as this is marketed heavily as a health food.
• Preservative (202) - This is potassium sorbate (202) in here to preserve the drink.
• Cultures (Bifido-defensis TM Bifidobacerium BB-12) - This is where it gets complicated. As you read in my intro there is a lot of work to do to prove whether these bacteria survive our stomach acid to do any good and there is also much debate over which bacteria are beneficial. This bacteria strain has been trademarked and on the maker's website it tells us that it is called Bifidobacterium animalis ssp lactis (BB-12).
In 2010 the European Commission asked the Panel on Dietetic Products, Nutrition and Allergies to provide a scientific opinion on a list of health claims associated with this bacteria and published its findings in the EFSA journal in 2011.
On the claimed effect of "natural defence/immune system" it found that "a cause and effect relationship has not been established between the consumption of Bifidobacterium animalis ssp. lactis Bb-12 and immune defence against pathogens".
And on the claimed effect "intestinal flora; digestive system" it found that "a cause and effect relationship has not been established between the consumption of Bifidobacterium animalis ssp. lactis Bb-12 and decreasing potentially pathogenic gastro-intestinal microorganisms".
This product makes the claim that it "supports your immune system and aids digestion" and that it "boosts friendly bacteria".
I could not find any food standards in this country for the use of probiotics in food. And when I went to the website for this product and clicked on the one study they had posted about this bacteria it came up with a blank page, which was disappointing.
My recommendations:
This product is known in the food industry as nutraceuticals or functional foods, which make claims to promote our health. In the past 10 years these products have become popular and according to the Guardian nearly 60 per cent of UK households now buy probiotic drinks and the market is worth 164 million ($320 million) in Britain alone.
The UK Food Standards Authority and the European Food Standards Agency have asked manufacturers to submit evidence of health claims made for probiotic products and their scientists are working through them to see if they stack up.
If you think that probiotics do make a difference to your digestion then I recommend you opt for a simple yoghurt which has live cultures in it such as Kefir yoghurt which contains a large amount of live bacteria similar to the ones found in these drinks.
It should taste sour and almost fizzy and you will get no artificial flavours, sugar, preservatives or thickeners with it.
Highlights
• Contains a bacteria which the European Food Standards Agency scientists could not prove had the claimed effects to the digestive and immune systems.
• Has nearly 2tsp of sugar per 100ml drink.
• Contains artificial flavour and other additives.
Do you have a food product you would like to feature in Wendyl Wants to Know?
Email wendylwantstoknow@gmail.com with suggestions. Unfortunately Wendyl cannot correspond with readers.