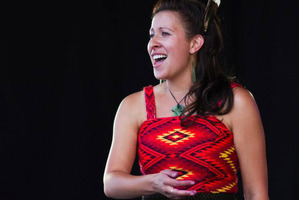 My happy place is kapa haka. I've grown up in kapa haka, so it's defined my life.
My early memories are of Sunday practices with Ngati Rangiwewehi - getting woken up, thrown in the car and taken to our marae beside Lake Rotorua, and just running around, playing with my cousins and friends, swimming in the river, and hearing kapa haka everywhere. I remember watching Mum and Dad pack the truck with all of the poi and piupiu and everything.
My parents would always chuckle because we wouldn't actually be in their rehearsals, we'd be playing around, but we'd know all of the words to the songs and all of the movements. It just became a part of us.
I started performing when I was very young, when I could stand and swing a poi. When I was 8 months old, Mum and Dad took me through Europe with a kapa haka group.
I've since been to the States, Europe again, Asia. Last year, we represented New Zealand at the Queen's Diamond Jubilee and we were invited to Windsor Castle to have tea and scones with her.
Performing kapa haka is like being on a natural high. It's an amazing feeling, this huge adrenalin rush. We practise for six months leading up to a national or regional competition, all for just 30 minutes on stage, and sometimes we think, "Why do we do this?"
But we do it because we love it. We love singing about our stories and our histories. I love learning through our waiata and movements about who we are and where we're from.
Probably the most important thing in kapa haka is whakawhanaungatanga - the bond of the group. You have to work together. You may look good on stage, but if you haven't got that synergy among the roopu, it shows.
I love performing with my family in Nga Uri o Te Whanoa. I lost my mother when I was 19 and a highlight for me was getting to stand on stage with her before she died. Now I get to stand on stage with my daughter, who'll be 3 in August.
My daughter did a show with me a couple of months ago, and I couldn't get over how much joy I felt that I now get to share that with her. I call her a kapa haka baby because she just loves it - she'll sit there and watch it all day, she knows all of the songs, she'll get up and perform. She gets so much confidence from it. I see now that it's my turn to give her what my parents gave me.


Kahurangi Maxwell will judge the 2 Degrees Kapa Haka Super 12s at the Queens Wharf Cloud on Sat, July 13, 9am-4pm. It features contemporary, creative performance styles and includes Maori art, craft and clothing markets. See matarikifestival.org.nz