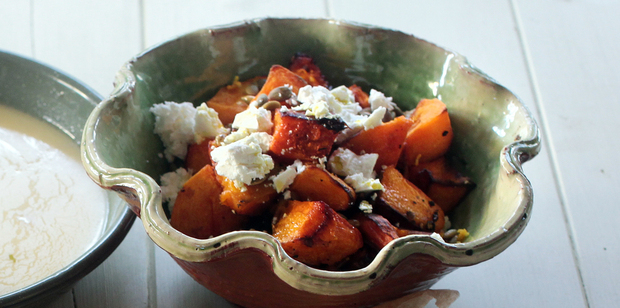 Serves 4
This is a great side dish for fondue, with some simple grilled meat or as a vegetarian meal with a salad.
• 500g of peeled pumpkin, cut into chunky pieces.
• 50g of feta
• 50g of pumpkin seeds
• 1 orange, zested and juiced
• olive oil


1. Place the diced pumpkin in a roasting dish, toss in 2 tbsp of olive oil and season with cracked pepper.
2. Roast in a medium oven until the pumpkin is soft and starting to brown.
3. While the pumpkin is cooking, put the pumpkin seeds in a frying pan with a splash of olive oil and toast these on a hot element. Keep the seeds moving until they brown a little, remove and drain on a paper towel.
4. Once the pumpkin is cooked, place in the serving bowl, add the pumpkin seeds, crumble over the feta, sprinkle with the orange zest and gently mix.
5. Dress with the orange juice and another tablespoon of olive oil.