Carl Hiaasen needn't look far for a story on which to base a novel. It's all right outside his door in Miami, he tells Stephen Jewell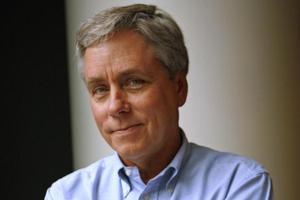 Like all fishing fans, Carl Hiaasen has always dreamed about the mythical one that got away. But the best-selling crime writer has never caught anything as grisly as the severed limb that a honeymooning couple reels in while out on the high seas of the Florida Keys in the opening pages of his latest novel, Bad Monkey.
"In the old days, it wasn't uncommon to come across bales of marijuana or cocaine floating around that smugglers had dumped off their boat when they were being pursued," says Hiaasen. "The ocean is a wonderful backdrop for drama and for mysteries because there's so much going on. It's always been a favourite setting for novelists."
Indeed, the conspiracy at the heart of Bad Monkey is based on the notorious dead-sailfish scam, a real-life scandal that the Miami Herald exposed several years ago.
Aimed at unsuspecting tourists, the unscrupulous perpetrators would pretend to have landed a huge catch that they had actually been keeping on ice.
"A friend of mine who is one of their sports writers had gotten wind of it," explains Hiaasen. "He thought he'd seen everything but he went out and followed this other boat that was doing this. He watched them pull this whole thing on a bunch of people, which was hilarious because you don't know how sorry to feel for someone stupid enough to fall for it. But, on the other hand, it was quite clever and it was typical South Florida. It's one of those perfect little things that I like to file away because it would be a perfect twist for some story."
A former investigative reporter for the Miami Herald, the 60-year-old has penned a weekly column for its Sunday edition since 1985. Having co-written three mysteries with the late Bill Montalbano in the early 1980s, he published his first solo novel, Tourist Season, in 1986. Famous for combining offbeat humour with fast-paced plots, he is best known for his 1993 fifth book, Strip Tease, which was made into a film starring Demi Moore and Burt Reynolds.
"The thing about working somewhere like South Florida is that the material is so rich that hardly a day goes by without reading something in the paper that surprises you more than any sort of twisted satire you can think of," he says. "It's such an unabashedly corrupt place and for my types of novels, it's very fertile. Having been born and raised here, I never seem to run out of material for inspiration."
Although it begins in Miami, Bad Monkey soon finds its central character, the former police detective-turned-restaurant inspector Andrew Yancy, venturing beyond its limits as he journeys to the Bahamas.
"I don't hang out there very much and I just go there when I absolutely have to," says Hiaasen, who lives in nearby Vero Beach. "I like to use the whole state of Florida as a palette because it's more interesting that way. At some point, the city novel becomes a cliche."
Although Miami is home to Showtime's popular adaptations of Jeff Lindsay's Dexter books, Hiaasen admits his depiction of the vibrant coastal resort city is very different from what we see on our television screens.
"Sometimes you almost want to avoid using it because it's been the setting for so many action movies and TV series like Miami Vice, CSI: Miami and Burn Notice," he says. "But a lot of writers, whether it's in TV, film or books, have been drawn to this locale because it's so colourful, diverse and unpredictable, so it's a natural place to want to be if you're a writer.
"I'm lucky because I've always lived down here but you can understand the attraction. But we're all storytellers and you could argue that you can make a good story whether you're in Miami, London or New Zealand."
Determined to stop a ruthless developer from building an expensive resort on an unspoilt island, Yancy travels to the Bahamas in pursuit of the bad monkey of the book's title; a notorious performing chimp that apparently appeared alongside Johnny Depp in the Pirates of the Caribbean trilogy.
"They had a whole squad of them for those films, as they had a lead monkey and a stand-in monkey ..." says Hiassen. "But it's something I'm wary about because it's a bit of a gratuitous monkey. It seems that in this country every television series or movie they make has one of those nasty monkeys in it. They just draw them in for cheap laughs. But it means that someone somewhere is training monkeys for the entertainment industry, so I just took the idea and thought, 'What if you have one that goes completely off the reservation?' They then have to get rid of it and he's now a ward of the state."
A keen angler, Hiaasen hopes to visit New Zealand at some stage.
"It's one of those places I would love to go to," he says.
"I have many friends who go there fly fishing and I've seen a lot of outdoor travel and fishing shows that were done there. It looks gorgeous but I haven't made the trip yet."
Bad Monkey (Sphere $39.99) is out now.