Address: Britomart Pavilion, 31-33 Tyler St, Auckland City
Phone: (09) 368 9487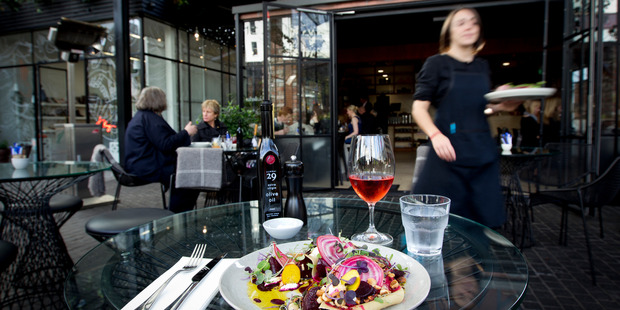 That infallible guide to the cool, our sister publication Viva, recently featured the uniforms of the staff at Ortolana as among the most chic in the city. "Where fashion and food meet," it enthused. And this bistro-style establishment at Britomart is now one of the compulsory venues for anyone with any pretension to having their fingers on the pulse.
On our visit, the front-of-house commander was operating like an air traffic controller, calling up circling diners to let them know a landing spot had become available. You can't book - a trend for which I know the arguments but still dislike - so we sneaked in at an unfashionable time and sat outside.
At this time of year, I would usually welcome sitting outside as much as having to watch Belarus' Got Talent but the heaters were efficient, there were blankets in case of cold knees and it was entertaining to watch crestfallen wannabe diners being turned away in droves. The setting is attractive, with huge planters and arrays of suspended lights in the heart of a bustling area.
"It's like being in a real grown-up city," my dining companion observed.
But does the substance match the style? Thankfully, it does. Viva called the staff dress "simple and elegant", and that sums up the approach to food. The menu is pitched somewhere between tapas and full-blown fine dining, with a distinctly Mediterranean flavour.
The first offering on the list is piadina, of which I confess I'd never heard but turned out to be flatbread from the Romagna region. Think of something like a tortilla or a roti with fillings such as smoked fish, mustard leaves and capers or squash, pine nuts and parmesan. These were obviously popular but I went for the dry-cured pork, which came with slivered almonds, olives and ciabatta, drizzled with a very good Waiheke olive oil. Our other first course was a bruschetta topped with marinated trevally, a reminder of how good that fish can be. Both dishes displayed what proved to be the Ortolana approach - clean flavours, not overly elaborate and letting good ingredients speak for themselves.
They make a point of bringing in seasonal produce from their own farms and the vegetable offerings were varied. The rib-eye steak was accompanied by green tomatoes and oregano, and the "garden harvest" with the chicken promised a profusion of winter greens. My eventual choice was described only as lamb, parsnip, currant and capers which was exactly what it was. But the lamb, I think shoulder, was terrific, melting in consistency and with a flavour that was the essence of lambiness - if you see what I mean.
The garden emphasis inspired our other main choice, a long ribbon of lasagnotte pasta with beetroot, feta, hazelnuts and a perfectly judged amount of cumin to lift the whole assembly.
The servings are not large - but not largely priced either - so I added the roast potatoes. As a spud-lover I am always hopeful when they are listed with the hint they are rather special. I am often disappointed, and was here. They were perfectly ordinary but this minor letdown was quickly banished by the wicked fried custard cream with rhubarb and macadamia. Our other dessert choice was the handmade valrhona chocolates including an unusual rosemary specimen that was delightful.
The place was busy but the service remained exemplary, with the wine delivery, from a varied if modestly sized list, being particularly efficient. Fashions come and go but providing this standard of entertainment should see Ortolana having a good long run.


Rating out of 10
Food: 8
Service: 8
Value: 7
Ambience: 8

Our meal: $166 for two first courses, two mains, two desserts and five glasses of wine.
Our wine: As you'd expect from a bistro, a good range by the glass. The Pegasus Bay Waipara riesling set us on the way followed by a good Milton Opua chardonnay while I stuck with the well-balanced Alluviale Red wine. The Fromm spatlese riesling was an appropriately crisp finisher to a crisp, light meal.
Verdict: Trendy but it delivers. A welcoming atmosphere for everyone but particularly popular, it seemed, with women.