Scandinavian style revives the 1960s vitality of a former state rental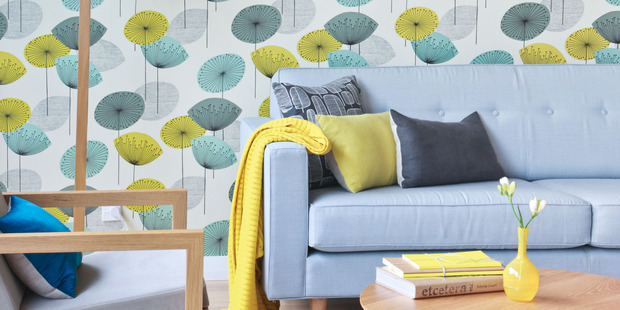 Apartment living is not for every-one, but Pip Rice loves being within walking distance of her work, the gym and her favourite supermarket.
"I was keen to get amongst it in the inner city," she says.
Although Star Block apartments in the inner-city Auckland suburb of Freemans Bay are highly sought-after for their 1960s design aesthetic, Pip had her reservations when she started her search for a city property.
"My brother and sister-in-law encouraged me to look at them, but I wasn't sure that this ex-council development was where I wanted to be."
Rice was also concerned about the potential noise factor of living in an apartment complex, in particular with another apartment above. But when she heard a top-floor apartment was due to come on the market, she decided to take a look. "It was just brilliant timing," she says.
She rang the owner and went to view the apartment, taking interior designer Tomi Williams along as an adviser. She was immediately impressed by the magnificent oak trees that provide a leafy view from the living room, the peek of the harbour bridge from the kitchen window, and the second bedroom for her son.
"And Tomi pointed out that in this apartment you don't look out to the rest of the complex, because it's a corner unit. I asked her to help me create the kind of space I wanted to live in."
When she moved into the apartment from her renovated state house in Mt Albert, Rice ended up taking few of her existing possessions. "Apart from the beds and a few collectibles, I didn't bring anything with me, so [we] virtually had a blank canvas to work with."
Softening the "somewhat masculine feel" was high on the agenda, as was removing some eyesores, such as an old fuse box on one wall and the layers of wallpaper and paint that made the walls look lumpy. "The wooden floors had gained a yellow tinge with age, and the white, utilitarian bathroom was in dire need of an injection of personality."
With those problems solved, Rice has no regrets about leaving the suburbs. "I'm still getting used to the road noise and my new community, but this place feels right for now. I can look out the windows and watch the world go by."


Style tips
Shared vision: Rice says working with an interiors expert made it so much easier to update the apartment. "Scandinavian retro was the style we agreed on, which seemed to suit the apartment's 1960s era and its compact proportions."
Paper weight: Wallpaper is hot right now and creates the perfect backdrop for the apartment's retro theme.
Expert input: A good interior designer will come up with a complete look for a makeover. "The only thing I changed was the wallpaper she suggested for the living room and bedroom - I swapped them around," says Rice.


Leanne Moore is the editor of Your Home & Garden. For more pictures of this home see the latest issue of Your Home & Garden, on sale now.