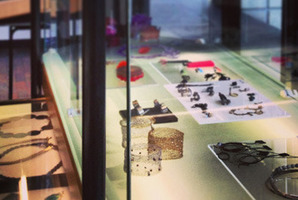 As part of the BIG little City launch of 453 reasons to love your city via Instagram, Weekend Editor Catherine Smith shares some of her picks from the BIG little City.
See Auckland in a nutshell at the Art Gallery
Every time I glimpse the Auckland Art Gallery it still brings a lump to my throat, the way the 2011 modernisation opened up the gracious 1877 original building to Albert Park, Kitchener Street and the city. Climb the stairs to smile at Choi Jeong Hwa's gently moving flowers, gasp at Ralph Hotere lacquered panels in a hallway, grab lunch in the smart café under the floating kauri paneled ceiling, always catching an unexpected glimpse of pohutukawa trees, city roof-lines and excited families. Auckland in one capsule, really.
Discover everything you need to know at Auckland Central Library
When my feet hurt from gallery pounding, I love to cross the road into the sanctuary of Auckland Library. Sure you can Google, but there's nothing like the serendipity of just spotting the perfect book or magazine or ogling ancient treasures in the Sir George Grey Special Collections (the Maori taonga are out for Matariki, the sketches of old Auckland are breathtaking).
If I'm lucky, I'll be in time for a cool art house movie at the Academy Theatre on the basement floor.
Dream big art dreams on the art gallery row at the Kitchener and Lorne Street Art Galleries
I love all the art galleries clustered around the 'mother ship' of the Auckland Art Gallery. It's easy to cross the road to FHE Galleries (2 Kitchener St) and have a drool at the clever art-you-can-wear jewellery at Fingers next door, pop into the first of two Gow Langsford Galleries (corner Kitchener and Wellesley) then down the Suffragette Stairs (controversial, but increasingly retro-cool), to Lorne Street for the second Gow Langsford Gallery (26 Lorne St) and Antoinette Godkin (28 Lorne St). Circle back around Chancery and up Shortland to the Gus Fisher Gallery, where there's often a talk or performance.
Rest and recover at Hotel de Brett's Housebar
An iconic bar on the Auckland nightlife scene in the 80's, the infamous Housebar has been completely restored to its former glory. The first floor bar is quietly removed from the hustle of the city streets - making it the perfect place to relax. Check out their cocktail menu, order a local beer - or they make really good coffee too! A gauze curtain cunningly separates the bar from the sunny atrium of the Kitchen at Hotel de Brett, offering the chance to people watch. Whilst you are there, take some time to explore the iconic Hotel de Brett's building: the stunning art deco detailing, the enviable mid-Century furniture collection, New Zealand art and photography - and the grooviest carpet in town.
Follow Catherine on @catherinesmithnzherald on Instagram and @Spacesmith22 on Twitter