Spread has 10 more ingredients than a slice of Edam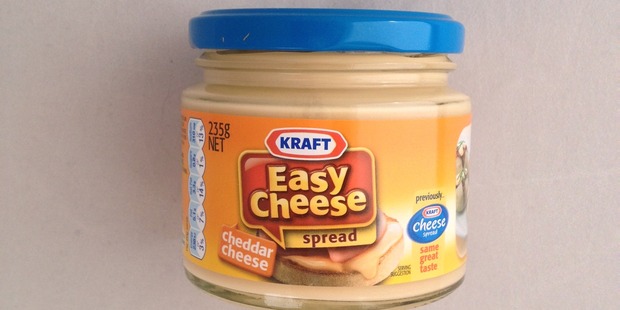 I picked this up on the supermarket shelf because I had been reading a book called Salt, Sugar, Fat - How the Food Giants Hooked Us, by Michael Moss about the Kraft product this came from, called Cheez Whiz.
It started off in the 50s as a handy alternative to cheese sauce but quickly became something you spread on crackers to have with your martini and was considered to be very civilised.
However, over the years the amount of real cheese was reduced to the point where it was largely replaced by canola oil and milk protein concentrates.
I wanted to see if this processed cheese had some real food in it.
Ingredients
• Cheese - Milk, salt, starter cultures, enzymes
This is real cheese - my block of Edam cheese in my fridge lists the same ingredients.
• Cream - This will be in here perhaps for texture.
Its addition helps bring up the saturated fat content of this product to 4.1g per 20g serve, my Edam will give me 3.2 g per 20g serve. Nutritionists believe saturated fat increases cholesterol and should be reduced in our diets.
• Water
• Butter - This will also be in here for texture and taste and will be contributing to the saturated fat.
• Mineral salt (338, 341) - These are phosphoric acid and calcium phosphate.
• Sugar - The sugar content is the same as the Edam cheese at less than 1g per 20g serve.
• Salt - There is nearly twice the amount of sodium in here at 250mg per 20g serve as in the Edam at 136mg per 20g serve. This product tastes very salty.
• Milk solids non fat - These are left in milk when the water is removed. They are commonly added to cheese products.
• Preservatives (200, 234) - These are sorbic acid and nisin which is made from fermented milk.
• Food acid (270) - This is lactic acid which occurs naturally in sour milk.
My recommendations
So this does have real cheese in it, which is a relief.
But it also has more salt, more saturated fat and 10 more ingredients than you would get if you were just eating a slice of Edam cheese from the fridge.
The recipe on the jar suggests using this in a chicken pasta and on the website it recommends using it as a dip, on nachos and in mashed potatoes.
So my question is, why not just use real cheese and a grater?
This will sit on the shelf for ages - this jar has a best before date of August 26, 2013.
But once opened it has to be refrigerated and will last two to three weeks as does real cheese. And price wise they cost about the same.
Highlights
• Nearly twice the amount of salt than real cheese.
• 10 more ingredients including preservatives than real cheese.
• More saturated fat than real cheese.
Do you have a food product you would like to feature in Wendyl Wants to Know? Email wendylwantstoknow@gmail.com with suggestions. Unfortunately Wendyl cannot correspond with readers.