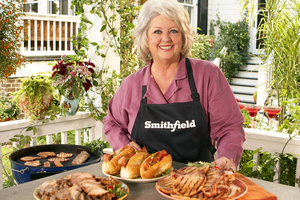 Paula Deen's merchandise and media empire is fast unravelling.
Retailers Target and Home Depot, and diabetes drug maker Novo Nordisk, became the latest companies to sever ties or distance themselves from the Southern celebrity cook as fallout builds from revelations that she used racial slurs in the past.
Target, based in Minneapolis, said on Thursday that it will phase out its Paula Deen-branded cookware and other items, which were sold on its website and in its stores.
"Once the merchandise is sold out, we will not be replenishing inventory," said Molly Snyder, a Target spokeswoman.
Home Depot, which sold Paula Deen-branded cookware and kitchen products only online, said it pulled the products off its website on Wednesday.
Diabetes drug maker Novo Nordisk said Thursday it and Deen have "mutually agreed to suspend our patient education activities for now".
The developments are the latest blow to Deen's business.
Wal-Mart Stores Inc., the world's largest retailer, said on Wednesday that it's also cutting ties with Deen, while her name is being stripped from four buffet restaurants owned by Caesars Entertainment.
The 66-year-old Savannah kitchen celebrity has been swamped in controversy since court documents revealed Deen told an attorney questioning her under oath last month that she has used the N-word.
"Yes, of course," Deen said, though she added, "It's been a very long time."
Court records show Deen sat down for a deposition May 17 in a discrimination lawsuit filed last year by a former employee who managed Uncle Bubba's Seafood and Oyster House, a Savannah restaurant owned by Deen and her brother, Bubba Hiers. The ex-employee, Lisa Jackson, says she was sexually harassed and worked in a hostile environment rife with innuendo and racial slurs.
During the deposition, Deen was peppered with questions about her racial attitudes. At one point she's asked if she thinks jokes using the N-word are "mean." Deen says jokes often target minority groups and "I can't, myself, determine what offends another person."
Deen also acknowledged she briefly considered hiring all black waiters for her brother's 2007 wedding, an idea inspired by the staff at a restaurant she had visited with her husband. She insisted she quickly dismissed the idea.
But she also insisted she and her brother have no tolerance for bigotry.
"Bubba and I, neither one of us, care what the color of your skin is" or what gender a person is, Deen said.
"It's what's in your heart and in your head that matters to us."
Check out her apology video.
Deen appeared in a Today show interview on Wednesday, dissolving into tears and saying that anyone in the audience who's never said anything they've regretted should pick up a rock and throw it at her head.
Watch the emotional interview here.
- AP