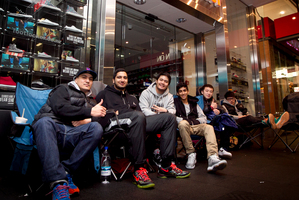 A group of Auckland men have set up camp on an inner-city footpath to be the first to slip their feet into a limited-edition basketball shoe.
Just 24 pairs of Nike LeBron X 10s will go on sale in New Zealand at 8am tomorrow and are available only at Foot Locker's Queen St store.
Up to a dozen "sneakerheads" set up camp outside the store on Wednesday morning to ensure themselves a pair of the $300 kicks available in two colours - Hazelnut and Black/Mint.
Akhail Baluja, 22, a junior accountant at KPMG, worked overtime the last two weeks so he could take time off for the three-day wait.
"It beats working, and come Saturday we get the biggest rewards," said Mr Baluja.
Joshua McKee, 27, a CT technician at Auckland Hospital, is a father of two and had to convince his partner to look after their children while he waits.
"You see a lot of judgmental people looking at us sitting on the side of the street waiting for a shoe, and you can see why people are like that - it's a shoe, a bloomin' shoe - but it's our passion.
"Some people like to collect cars or stamps or ornaments, but ours is sneakers."
The shoes are named after NBA star LeBron James. The Miami Heat forward is known as one of the game's living legends.
"He's such a prime, strong player and the top of his peak," said Mr McKee. "It's Nike that does this, it's supply and demand and they're only releasing 12 of each shoe so everyone wants to own it."
The coveted kicks were also subject to waits overseas. Recently in Atlanta, Georgia, a man was killed when he tried to rob a group of people waiting for the denim version of the sneakers. One of his would-be victims pulled a gun and shot him, the Huffington Post reported.
Mr McKee said that the shoes were such hot property he could make a sizeable profit selling them.
"They are selling for up to US$800 ($1022) on eBay at the moment."
However, he planned to keep his in their box, wearing them on special occasions.
The group of men the Herald spoke to belong to a club of like-minded collectors who formalised their footwear fetish by starting the New Zealand Sneakerheads club in 2011.