Address:
479 New North Rd, Kingsland
Phone:
(09) 845 1680
Rating out of 10:
Food: 7, Service: 8, Value: 7, Ambience: 7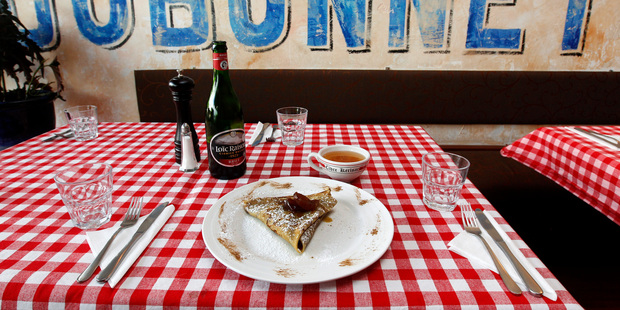 According to my very old French-English dictionary, a garde-manger is a pantry or larder. And also a meat safe, but who among us remembers those? In the space previously occupied by Bouchon, the Kingsland branch of Le Garde-Manger has been open only a month or so, and a more quintessential French cafe would be hard to find, in New Zealand at least.
Red-checked tablecloths and matching napkins draped over the lights, wax-festooned wine bottles on the tables, staff with French accents - it's almost a caricature.
The menu complements the decor; snails, pate, galettes, coq au vin, boeuf bourguignon and more. It's all here for your French dining pleasure.
And what a pleasure it is. From the welcome by chef Florent Gibert, imported from the Queen St sister-ship, and waitress Jade Caubel, it's all very relaxed and pleasant. Although, it has to be said, on a chilly Auckland evening, the heaters could have been turned up a little higher.
But the food was warming. Bill's French onion soup, in a wee tureen with its narrow neck covered by cheesy toast, was dense with the sweetly caramelised vegetables, and delicious.
My paté was smooth and solid, full of chicken liver and brandy flavours, and similarly excellent.
A brandade is a dish traditionally made with salt cod, but Le Garde-Manger's version used, on the night we were there, warehou, a fish sufficiently dense and rich enough to bear the potato mash and crumbed topping. Fish pie, really, but well-executed and tasty.
My galette Alsacienne (there's a theme here) was dark brown and stuffed full of cheese, bacon lardons and onion, and brought back great memories of similar dishes enjoyed in Colmar, in that French province.
I was, by now, sufficiently replete to not require dessert, but a glass of Calvados seemed called for. Bill had his poured over a caramelised apple crepe and flambeed, with quite spectacular results. Chef Gibert is efficient and relaxed in his kitchen and the results of his efforts are rewarding.
There will always be room for a good French restaurant in Kingsland and Le Garde-Manger fills that niche admirably.


Our meal: $124 for two starters, two mains, one dessert, two beers, two glasses of wine and one digestif.
Wine list: Almost solely French, as is appropriate, with a couple of New Zealand entries. My Michel Leon pinot gris from Alsace was excellent, and Bill enjoyed his Kronenbourg beer.
Verdict: An almost picture-perfect copy of Le Garde-Manger in Queen St, with similarly good food, wine and service.