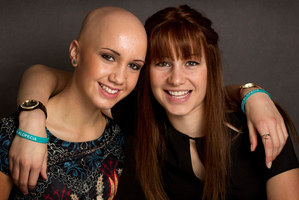 When Kelly Porima's hair started falling out in clumps, one of her main fears was what others would think of her bald head.
The Hamilton 15-year-old and her non-identical twin, Leah, are among hundreds of New Zealanders who suffer from the hair-loss condition alOpecia areata, and her reaction to it is fairly typical.
"I was just worried about how other people would react," she said.
At 13, Kelly found her hair falling out in clumps and within weeks was completely bald. Multiple treatments only made it more difficult.
"When you have pills and ointments to put on, it just makes you depressed, it makes you feel like you're ill."
Kelly realised during a trip to an alOpecia conference in Washington DC that she didn't need to worry about her condition. "I was a changed person. You can't feel weird when there are 800 other people like you there, being positive. It's amazing."
Although she is now confident enough to talk about her condition and will often leave home without her wig, sister Leah, who was diagnosed last August, still struggles.
The diagnosing doctor told her it was a case of "extremely bad luck" that both sisters had alOpecia.
Leah said hair loss had taken a big toll on her life. "Little things that I used to be able to do have been made a lot harder. Not having hair, I can't just swim in the ocean because I'm constantly frightened that my wig will come off. I think Kelly has handled it a lot better than me."
She said Kelly puts on a wig only when she gets dressed up.
It is cases like these that led the group AlOpecia Aotearoa to team up with schools to organise New Zealand's first alOpecia conference, which will be held in October.
Member Janine Antram said organisers hoped to promote discussion and openness about the condition. "We want to bring out all the people who have alOpecia and hide it away."
Ms Antram said a big increase in alOpecia areata had been noticed in Christchurch and it was thought to be linked to the stress people had suffered as a result of the earthquakes. "A huge part of alOpecia that is brought on quickly can be associated with stress."
The conference will be held at St Paul's Collegiate School in Hamilton.
AlOpecia areata
* An auto-immune disorder that causes hair loss.
* Cause unknown.
* Some cases may be linked to stress.
* Permanent in 10 per cent of cases.
- additional reporting: Martin Johnston alOpeciaaotearoa.wix.com/alOpecia