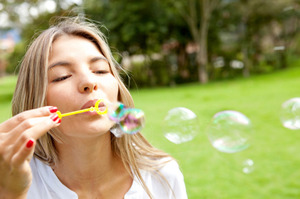 Try burping and blowing bubbles instead of sex, Christian students are being urged.
Among a "101 things to do instead of doing it" pamphlet recently given to students at Caloundra Christian College in Queensland were suggestions such as horse riding, eating something new, blowing bubbles, playing ball without the ball and a burping contest.
Christian Schools Australia CEO Steve O'Doherty says he's surprised by the attention the pamphlet is receiving as it's hardly anything new that Christians preach abstinence.
"Christian schools teach that the safest way of protecting yourself medically and emotionally is to wait until a stable, married relationship."
Mr O'Doherty said that while abstinence was the preferred option for children and teenagers, Christian schools taught a healthy message about sex.
"We teach kids about safe sex, we teach them about the dangers of sexually transmitted diseases and what you need to do protect yourself against them," he said.
"But we tell the full story too - there are emotional dangers in committing yourself to a sexual relationship and the best way to protect yourself medically and emotionally is abstinence."
While the pamphlet carries some light suggestions, it also has a serious side, Mr O'Doherty says.
Among 33 reasons young people have given for abstaining are: "I'm only 14, I have the rest of my life" and "If I'm hurt too many times, I might miss out on something great because I'm so afraid of being hurt again."
Take your mind off it
* Blow bubbles in the park
* Pretend you're six again
* Look at clouds and see what you can make them into
* Surprise your parents by cleaning the house
* Have a water fight
* Go fruit picking
* Go to Macca's in formals
* Make lunch for the elderly
* Share a drink with two straws
* Visit the RSPCA
* Have a burping contest.
- AAP