Each week Rachel Grunwell tries a new sport to bring you the lowdown.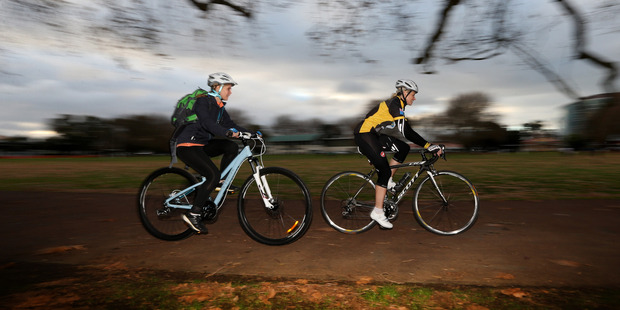 Ride to Conquer Cancer (November 16-17)
What is it? A 200km bike ride, from Ellerslie to Pukekohe and back, over two days. Cyclists will stay overnight at an arranged campsite. The event will raise money for Cancer Society Auckland to support research and clinical trials at the Auckland Cancer Society Research Centre.
What's needed? Bike, helmet, a desire to raise money for the charity.
About the event: Hundreds of cyclists are expected in this event, including many gutsy cancer survivors. So, when you see a platoon of riders heading south on these dates look out for bikes with yellow flags; they show whose lives have been afflicted by cancer.
One rider displaying a flag will be 38-year-old Karen Shelton, an Air NZ contracts manager. I joined her for a training ride to hear about her cancer journey and why she's passionate about raising cash for the cause.
Karen found a lump on the morning of her 36th birthday, but she didn't get it checked for a few weeks because she had recently miscarried and only felt strong enough to face one war on her body at a time.
After her diagnosis of breast cancer she had a mastectomy then chemotherapy, in which she lost her beautiful, long, blonde hair. She's since had reconstruction surgery, regrown her locks and is on cancer-fighting drugs for five years to make sure the disease cannot creep back.
It has been "the toughest times", but she's learned not to sweat the small stuff. Life is too "precious". Her new motto is "love life".
"I want the most out of my life now and I want to make a difference at work, with relationships, exercise, everything," she says.
She also doesn't want pity; she wants to inspire instead. She wants to recruit 50 riders to join her team to raise $100,000. She has raised $4000 already and is one of the top fundraisers. She says it's thanks to money others previously raised that she could get the best treatment to beat her cancer.
She hopes future research can tap even better solutions for other sufferers, such as her dad, who was diagnosed with prostate cancer just weeks ago. They are among half a dozen members of her wider family who have had cancer.
Karen says she did spin cycling at home during her recovery, and has bought a road bike for the event.
She trains three to four times a week and loves discovering beautiful parts of Auckland and being in the fresh air. She has also made friends through her new passion and encourages other participants not to train alone; it's more fun to cycle with others.
Cancer Society Auckland chief executive John Loof will also cycle in the event and urges others to hit the pedals. "All you need is a bike, helmet and determination," he says.
He says 50 Kiwis a day - 20,000 Kiwis a year - are diagnosed with cancer. He hopes by underpinning medical research through fundraising like this that doctors can better understand cancer and how to fight it.


Training tips
• Cycling champ Alison Shanks will also take part in the ride. Here are her training tips:
• Plan good routes that have minimal traffic. Start with a one-hour ride, then each week try to do 20 minutes more. Ideally, you should ride at least three times a week.
• Ride regularly. Avoid a "get fit quick" course a couple of weeks out as this is when injuries occur.
• Invest in gear: a helmet is essential, plus brightly coloured or high-visibility gear that helps you "be seen". Padded cycling shorts can make cycling more enjoyable and are "like a comfy couch for your butt".
• Carry a pump, spare tyre and tyre levers.


• For more information or to sponsor riders see conquercancer.org.nz. To sponsor Karen or join her team, email her at: karen.shelton@airnz.co.nz