Address:
4 Brown St, Ponsonby
Phone:
(09) 360 0303
Rating out of 10:
Food: 9, Service: 8, Value: 8, Ambience: 8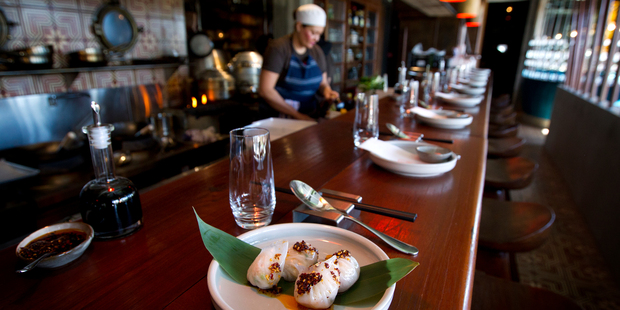 It's hard to believe that The Blue Breeze Inn has been open for only a few weeks.
Despite the crowd and huge number of tables, systems were working smoothly.
Our table for four was ready and waiting. And, boy, was I glad I had booked - people were being turned away, which happens when a new restaurant opens on Ponsonby Rd. But for once, this is one worth waiting for.
The fit-out is stylish if cramped: a glamorous fusion of Chinese and modern Pacific combine for sparkly golds and a splash of neon. The building is finished with solid beams, giving it a welcome feel of permanence - great for a restaurant out to make its mark in Ponsonby's pop-up territory.
White tablecloths and shiny black lacquered chopsticks are set on the tables.
Despite the clamour and glamour as the stylish set (many with kids) take over the early sitting, we could mostly hear each other talk. All plates are designed to be shared and the cuisine is Chinese - but not as we know it.
This menu, in the hands and inspiration of chef Che Barrington, took me to exotic places.
We started with a selection of appetisers - pork and black truffle soup and "xiao long bao", which, our waiter explained, were dumplings, and delicious they were, too. Made with that shiny, opaque batter rather than sweet dough, they were stuffed full with fragrant truffle-tasting pork, and served with a decent-sized fancy bottle of soy sauce to share, plus a little bowl of not-too-hot chilli sauce.
Next came the prawn har gau, dumplings again, followed by five-spice smoked fish - which turned out to be a cold salad - plus the mar po tofu (hot and numbing pork with tofu). It was a surprise to be served hot salad and pork sitting on a couple of squares of plain, cold tofu.
"Interesting but not brilliant," said Dia, our Chinese expert.
The waitstaff deserve a special mention. There are plenty of them and the two working our section were both efficient and relaxed. After only a few nights on the job, though, they were a little green regarding the wine list.
By now, the dishes were coming thick and fast and I was glad our waiter had stopped me when he did because the "big appetite" section meant just that. Our first dish was braised beef shin, shitake and oyster mushroom hotpot, which was huge, satisfying and brilliant.
I don't think I've ever had such an excellent slow-cooked meal. The glutinous part of the beef melted on contact, as did the mushrooms, and the flavours were fantastic. The steamed fish with black bean and shaoxing tasted like blue cod, which is a rarity in Auckland, and much appreciated - as were the green beans with eggplant.
By the time the pork ribs arrived, a bit later, we were done in. We had to take some home.
And after all that, yes, we did manage a couple of desserts - and what a brilliant flourish they added to the evening. Oodles of bourbon butterscotch sauce lifted vanilla icecream to a "wow" level, while caramelised egg and ginger tart, soaked in a ginger syrup, was the one of the best desserts I've eaten this year.


Our meal: $350 for four "small appetite" dishes, three "big appetite" main courses, a dish of eggplant and green beans, rice, two bottles of chardonnay, a glass of riesling and another of dessert wine.
Wine list: A long, interesting and unusual wine list, from which none of us, plus our two waiters, could find a single sweetish aromatic. At $73, a bottle the Felton Rd chardonnay seemed expensive.
Verdict: Once again, chef Che Barrington and restaurateur Mark Wallbank pull off a ripper of a restaurant. Be prepared for the unpredictable and don't forget to book.