British writer Neil Gaiman's new fantasy, rooted in the darkest corners of reality, is no kids' tale, writes Stephen Jewell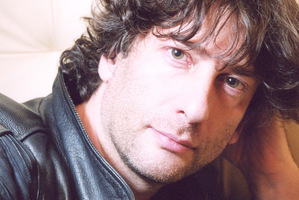 "I seem to be making a complete mess of who's getting what books right now."
It's a candid admission from Neil Gaiman, the British author of popular DC/Vertigo Comics series Sandman and bestselling novels like American Gods.
For while his last effort, The Graveyard Book, was a tale for teenagers that appealed to readers of all ages, his new book, Ocean At The End Of The Lane, is a distinctly adult story told from a child's perspective.
"I definitely had to think a lot about who exactly I was writing it for and why," he says. "The why was just as important because I knew what happened in the book but was it a child's book and, if so, why would you think that? Eventually, I decided that one of the reasons it was an adult book was that it wasn't offering hope to kids."
His first novel for adults since Anansi Boys, Gaiman compares Ocean At The End Of The Lane to his haunting young adult novel, Coraline, which was later made into an equally memorable stop-motion film by The Nightmare Before Christmas director Henry Selick.
"That was a terrifying book but it was all about telling kids that if they're brave, things will work out and they can save themselves," he reasons. "But this isn't a book that says to kids, 'you can save yourself'. It's a book in which our hero screws up a number of times."
As with The Graveyard Book and his forthcoming new children's novel, Fortunately, The Milk, Ocean At The End Of The Lane explores the unstable nature of families.
"I don't know why more people don't write about it," says Gaiman, who lives in Massachusetts with his wife, musician Amanda Palmer. "I remember being really puzzled when I first went to America, as people would enthuse to me about Sandman and how I was writing about a dysfunctional family. I'd never heard that term before so I had to figure out what it meant. Eventually, I realised that what Americans call a dysfunctional family, the English call a family. It's like, what do you expect them to do? A family is not like a corporation, which is meant to be run efficiently. It's a whole bunch of people who choose to be there, who keep bumping into each other."
Set in rural Sussex near where the 52-year-old grew up, Ocean At The End Of The Lane has been interpreted as Gaiman's most autobiographical novel yet, even though parts of it happen in a sinister fantastical netherworld and the plot involves a hideous demonic creature that manifests itself as the unnamed narrator's nanny from hell.
"People have said it's a new thing for me but it's actually something I've been doing in fiction since I was about 26," he says. "I haven't done it before in full-length adult fiction but I've done it in graphic novels and things like that."
Gaiman compares the book to his 1987 debut graphic novel, Violent Cases, which centred on a small boy's seemingly improbable encounter with Al Capone's former osteopath in provincial Portsmouth.
"If you look at a mosaic, there are lots of different coloured squares that make up the picture and, if you were talking about Violent Cases, I could tell you quite confidently that all of the little red squares are true," he explains, cryptically.
"But the little red squares aren't the whole picture, they're just little true things I drop in as moments of memory and corroborative detail to flesh it out. It's like the Hempstock kitchen is really about what it felt like to be in my grandmothers' kitchens, which is a very true thing because they both existed in their kitchens."
Having first dreamt up the enigmatic family of witches when he was only 8, various members of the Hempstock clan have previously appeared in The Graveyard Book and Stardust. "I thought it would be fun to write a book about them one day and when I had the idea for this story, it seemed like a good place to introduce them," says Gaiman, who based the geography of the novel on his childhood surroundings.
"The landscape is true, or almost true, as I've occasionally changed things for fictional purposes. Basically, had there been a Google Earth in 1967, I could go back in time and point to where everything happens."
Just as in the novel, Gaiman's parents took in lodgers to help pay the bills.
"There was definitely that feeling that there were rooms in the house that were ours and some that weren't," he recalls. "The people were always changing so you'd come down to breakfast and they'd be somebody you hadn't seen before."
Inspired by a surprising admission from Gaiman's father, one of the household guests in the novel - a visiting opal miner - kills himself in the family car, which then mysteriously disappears.
"The whole thing started with something my father mentioned to me back around 2003. I'd just bought my first Mini Cooper, as they'd just come to America, and the next time my father was in the US I said, 'I loved that white Mini Cooper of yours, whatever happened to it?"
It turns out that a house guest had borrowed it one night to drive to a casino, where he proceeded to gamble away all of the money he had illicitly smuggled out of his native South Africa. Desperate at his loss, he killed himself in the vehicle. Alerted by the police, Gaiman snr promptly sold the Mini and it was never seen again.
"That story sat there like a grain of sand in the back of my head, just irritating me," says Gaiman. "What fascinated me most about it was that when I was 7, this weird, tragic event that felt like something from a book had happened but I hadn't known about it. I kept thinking, 'What would have happened if I had known?'."
Ocean At The End Of The Lane (Headline $44.99) is out now.