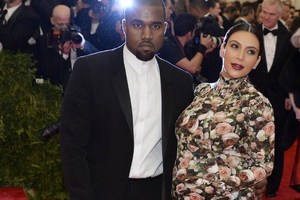 The early arrival of the baby of Kim Kardashian and Kanye West has prompted celebrity doctor, Dr Mehmet Oz, to warn the celebrity couple to "really focus" on their premature bub.
During an impromptu interview with US Weekly Dr Oz shared his own experience with his youngest child who was born early.
"I've been following Kim's story, which I have a personal interest in aside from being a doctor," Dr Oz explained.
"Our youngest child [Oliver] was born five weeks premature. So I know how hair-raising that is."
According to the World Health Organisation about 15 million babies are born preterm - that is before 37 completed weeks.
Kardashian went in to labor at 35 weeks and reportedly gave birth to a baby girl over the weekend.
"We can actually get kids to survive almost always, but if you don't manage them really well early on, they can grow up to develop all kinds of issues," said Dr Oz, made famous for his health offerings on Oprah.
Sharing his experience as a premmie parent, Dr Oz said that after arriving home from the hospital, his baby "would turn blue and pass out, which would scare me. And I'm a doctor, so maybe they let him to my care [early], but it's a little nerve-wracking."
"We change how a child responds to a world around it in those first few weeks of life, so they ought to really focus in on that little girl," Dr Oz advised the star couple.
"It's scary, those first few months, for all babies but especially for the premature. It's a sacred time. They should focus on the child."
Facts about premature births
• A normal pregnancy term is about 40 weeks. A premature baby is defined as being born before 37 weeks.
• The youngest age at which babies can be looked after is 23 weeks.
• The cost of equipment to look after one baby is about $500,000.
• The smallest baby cared for at Wellington Hospital weighed 400g at birth - less than a block of butter.
For more info and support with premature babies visit The Neonatal Trust.
- www.nzherald.co.nz