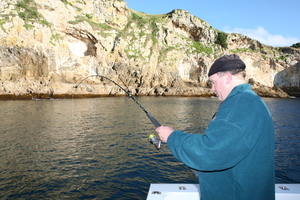 Pilchards and jack mackerel are the top baits at present, and shallow water is the key to catching snapper.
The annual "Ten Pound Snapper Contest" which was held by the Big Fish Fishing Club at Pakuranga last weekend saw about 50 anglers trying to catch a snapper weighing exactly 4.54 kilos (10 pounds), and the winning entry was 4.44kg, with several others within a few grams.
But the fish all came from water as shallow as two or three metres, around the islands and rocks in the inner Hauraki Gulf. Lures like soft baits have not been producing well, and the anglers who went out wide had trouble finding fish, although the weather did not help.
There are large numbers of kahawai, though, and a "three-pound" kahawai was hard to find for the contest, as most were in the 3kg range, which is twice as big.
Small kingfish are also prolific, and will take cut baits of pilchard; and two large snapper have been reported in recent weeks - one of 11.4kg from the shallows at the Durville Rocks, and a bigger one from the rocks at the back of Rangitoto Island.
The other style of fishing which is popular at present is jigging at night for squid. The key to squid fishing is to avoid fresh water run-off, and look for weed which provides shelter for the squid as they hunt small fish. They can be found off breakwaters and wharves from Maraetai to Okahu Bay, and the special squid jigs are jiggled on long rods.
Some people use a float to hold the lure in midwater.
Snapper fishing at the bottom end of Waiheke Island is also producing good results, in about 30m out off Hooks Bay.
Fresh water
Fisheries officers in Rotorua are increasing surveillance on trout spawning streams after a rise in the number of poaching incidents caught on hidden cameras.
Eastern Fish and Game officer Anthony van Dorp said Rotorua's world-renowned trout fisheries were always more sensitive during the spawning season, which was well under way, and the taking of spawning trout could have a serious impact on future trout numbers.
People seeing suspicious behaviour can help by calling 0800 POACHING.
Bite times
Bite times are 4.50am and 5.10pm today, and tomorrow at 5.35am and 6pm. These are based on the moon phase and position, not tides, so apply to the whole country.
•Tip of the week
Light rods and line of 6kg are ideal for casting small cut baits into the shallows, and heavy traces and large hooks should be avoided.
More fishing action can be found on Rheem Outdoors with Geoff, 6.30am Saturdays, TV3.