Ben Crawford discovers how to keep your builder sweet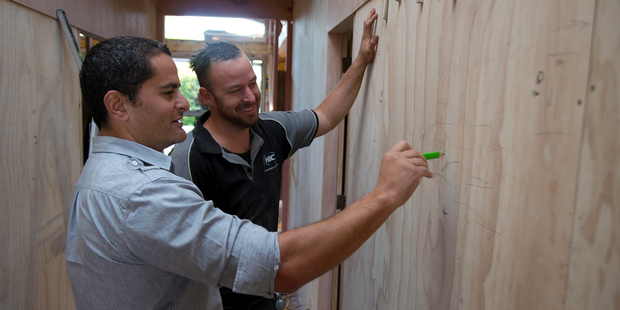 The partnership with your builder is like a relationship. The more you put in, the more you get out. The more you listen to each other, the better the results. And the sooner you address any problems, the sooner they're resolved, in retrospect realising they were pretty trivial anyway.
Libby and I entered The Block NZ green to construction, full of big design ideas but with minimal hands on experience in turning them into reality. I had renovated three old houses before, but nothing seriously structural. Libby owned her own home but all of the grunty, do-up work was done before settlement.
So when we were faced with the daunting challenge of turning a beaten up old bombsite, into a high end, designer home, we relied heavily on our builders.
When Ray Sale, owner of Haven Building Concepts, and his right-hand man Garrick Henderson turned up on site after we found them via Google, we struggled to answer any of their questions, no doubt looking like a couple of stunned mullets.
Then we were told we had five days to complete our first room.
"You'll need 175m of H3.2, four packets of HandiBracs, a few lengths of Rondo and some PEF Rod. Oh, and when is the pre-line inspection happening?"
Say what? They may as well have been talking Japanese. We just wanted to discuss our fancy idea of a wooden headboard running the width of the room.
But we quickly realised it was a two-way street. The guys thrived on our ideas that challenged the norm. They were no doubt pulling their hair out, being asked to create intricate lighting channels in the bathroom or wondering what the heck we were thinking trying to clad a living room wall entirely in timber. But they respected our ideas while providing us with sound advice about how to mould them to fit our timescale and budget.
There's no way we could have done what we did without our building team. But there's no way we would have produced the design-driven house we did without our input and ideas. Like all good partnerships, everyone's strengths combined to create a whole that was greater than the sum of its parts.
It is crucial, then, to find a builder who will construct your home to the standard you expect and respect your design ideas. It's a bit like dating. You know very little about a builder when you first meet, matching their pros and cons against your 'must-have' list.
So I sat down with Ray and asked him for the top 10 things he wished people knew about builders. These pointers will help break the ice and make that first date more likely to result in a long and successful partnership.
Visit Haven Building Concepts at 74 Barry's Point Rd, Takapuna, or
havenbuildingconcepts.co.nz

10 things to remember
• Builders have your best interests at heart.
They're honoured to be involved in the second biggest financial decision of your life, and get huge satisfaction in helping bring your ideas to life.
• A wolf whistle is a compliment. Truly.
• Quality isn't expensive, it's priceless. So it doesn't have to cost the earth but it will cost you something.
• Putting plans through the consent process will take more time than you expect, as will the entire job. Unfortunately, that's just the way it is under current regulations.
• A builder's liability is for 10 years following the code of compliance certificate being issued. Not as he leaves with your cheque.
• When haggling with your builder, it pays to bear in mind they get paid the least while carrying the greatest liability.
• Most builders haven't been on Target and never will be.
• Involving a builder during the design stage will tread on your designer's toes. But it may save you time, frustration and money in the long run.
• Builders have homes and families too. Finishing at 3pm on a Friday allows for more family time, not a visit to the local.
• Stubbies aren't only for looks, they're for flexibility and ease of movement on site. Honest.


• Ben Crawford and sister Libby won the first series of The Block NZ. They run their own creative advertising agency Libby & Ben, see libbyandben.co.nz