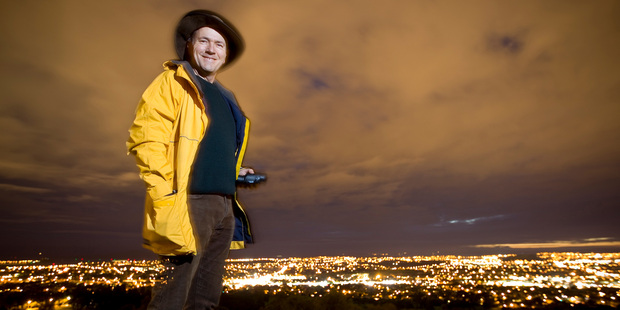 My happy place is seeing the Matariki constellation rise for the first time in the Maori New Year. I can't see it from my house when it first appears, so I'll climb to the top of One Tree Hill with my binoculars and tripod and camera before dawn most days from early June to early July.
There's a little nook in the retaining wall on the northeast corner of the summit.
It's only about 1sq m and that's where I set up so I don't get blasted by the bitter wind or run over by joggers.
It's cold, it's dark, it's wet and it's miserable up there most of the time. On the times it isn't, it's absolutely fantastic.
Matariki disappears from our skies in May, and reappears about June 10 or 12 each year, to the left of where the sun rises. At that time of year, you've only got about 15 minutes before dawn washes it out.
Even from One Tree Hill you can't see Matariki until it clears the Coromandel Ranges - and they're covered in cloud almost every morning, or there's a cloud hovering above them.
And because the weather is random, the cloud is random and the light is random, you never really know if it's going to happen. But it's so beautiful up there and so peaceful that it doesn't matter if you don't see it.
I've been interested in astronomy since I picked up a book about it in my late teens. One day I asked my wife, who's part Maori, about Matariki. She said it was a star cluster that started the new year. Not many people knew anything about it then, so I decided to go and see it for myself. That was five or six years ago, and I've been hooked ever since.
In many cultures around the world, Matariki (or the Pleiades) have been used to start the new year. Babylonians used it to set their year, and our calendar comes from that.
From an anthropological perspective, it's fascinating to sit up there on the hill and watch it rise, and contemplate that you're one of billions of people who've been affected by this one cluster that's been defining our calendar for thousands of years.
It's a constant in our universe, so to see it for the first time in the new year, you get that sense of continuance.
The moment I see it for the first time each year is the ultimate. It's a beautiful constellation first thing in the morning. It really does sparkle - just sits up there and twinkles. It's a bit of a fix for me.


Auckland's Matariki Festival begins on Saturday, with a dawn karakia at 6am on the summit of One Tree Hill/Maungakiekie, and continues until July 22, with dozens of events Aucklandwide.