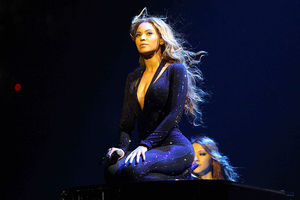 Beyonce Knowles says she wants her latest scent, named after her world tour, to leave women feeling "like they can conquer anything".
The superstar has dedicated her latest fragrance to her fans as a reminder of her special performances.
The limited-edition perfume entitled Heat The Mrs. Carter Show World Tour, is a feminine fruity-floral smell containing Mangosteen, Jasmine, Brassia Edvah Loo Orchid and Vanilla.
"I wanted to give them a special remembrance of this tour and I created this scent to reflect the power, passion and playfulness I put into my performances," the singer said in a statement.
To coincide with the launch, Knowles launched a website dedicated to her fragrance pursuits.
"I want women to feel sexy, strong, empowered and I want them to feel like they can conquer anything," Knowles said of the perfume.
"When they walk into a room, I want them to feel like they can leave a lasting impression on everyone they walk past."
- COVER MEDIA