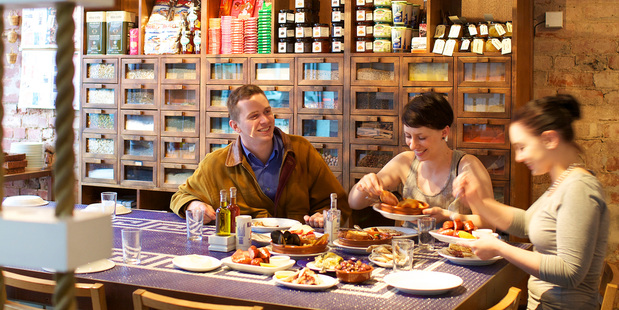 Lygon St was my first taste of Melbourne. Arriving in the city at the end of the 1970s, I was enchanted by the street of Greek, Italian and Lebanese eateries where the air was dense with the smell of grilled meat and garlic.
The first place we ate at was, like most (maybe all) of them, unlicensed, and the waiter who took our order asked whether we wanted "special Coke". "I hate Coca-Cola," I told him. He replied, "You want special Coke".
The beverage in question, which came in Coca-Cola bottles, was a rough red wine, doubtless poured from a flagon or drawn from a barrel out the back. The idea was that if a member of the local constabulary were to look in the window, he would believe - or could at least allow himself to believe - that the dark liquid was nothing but lolly water.
That plane-tree-lined part of Lygon St, in north Carlton, is a bit package-tourist now but if you stay on the tram until you get to Brunswick East, you'll come to another dining strip that has flourished in recent years. Among them is this cheap(ish) and extremely cheerful place that answered my hunger for Greek food.
The laughable attempt by conman Loizos Michael at Plato's notwithstanding, there is no Greek restaurant in Auckland - and I can't remember there ever having been one. That's a matter of regret to me. I don't regard Greek as fondly as Italian or French cuisine (though I think AA Gill's view that it is "unremittingly ghastly [and] best eaten drunk" is a bit extreme), but I'm partial to some of its specialities.
Hellenic Republic, which is also Greece's official name, had been recommended to me as the pick of the city's crop, and the booking policy, which lets you have a table for two hours only, suggested they were popular. We were soon to find out why.
The doors were firmly closed when we arrived at 5.30pm and, peering through the window, I could see all the waiters and waitresses sitting at the biggest table, eating up large and even drinking wine. It made me smile to see a restaurant taking it for granted that a well-fed and well-watered staff is an asset. We took up positions at one of the outside tables and we were soon invited to take our places with a cheerful "kalispera!" ("good evening!").
The long bright room, formerly a small factory no doubt, is dominated by an open wood-fired grill at which flames dance merrily. Actually, it is dominated by chairs hanging at great height along one wall, which I think was more for effect than effective storage but once you get used to that, the flames are more conspicuous. You sit at tables at which the plates are laid upside down - a nicely peasant touch - and look through a menu of tantalising classics.
Our waiter, whose rapid patter was more enthusiastic than strictly intelligible, nevertheless took a keen interest in ensuring our trio compiled an order that touched all bases. Sensing my disappointment that neither of my companions, a vegetarian and the semi-vego Professor, had ordered the shoulder of lamb or spit-roasted chicken, he added a small combo plate of both, bless his heart. But there was much more.
The octopus was pickled and served with shallots and capers, an ideal astringent appetiser enjoyed with pita bread and some of the creamy cucumber-and-yoghurt dip called tzatziki. A moussaka, still bubbling in its own pan, was almost soupy, the eggplant virtually liquid, the beef sauce dense and aromatic. It was wickedly rich comfort food.
Interestingly, the entire wine list, apart from some French bubbles and a South Australian riesling, is Greek. The only time I had heard Greek and wine in the same sentence before was in reference to retsina, which tastes like toilet cleaner and is, to paraphrase Gill, best drunk drunk. I offer no opinion on the wine, not just because I am no oenophile, but also because I didn't try any. They do, however, have 16 ouzos and two digestifs of Greek origin.
Melbourne has more Greeks than any other city except Athens so there's nowhere for bad Greek food to hide. Hellenic Republic doesn't need to. If you're over there and in the mood for a cuisine you can't find here, it is a mighty fine place to start.


Verdict: Authentic, delicious and fun