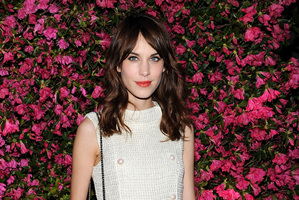 Alexa Chung says her highly-anticipated style book featuring her inspirations and musings will be called It.
The book features a collection of the British fashionista's favourite photographs and drawings, accumulating to make up Chung's personal guide to life.
It has a pale pink cover with the star's name in scrawled script across the top.
In the middle is a square with a heavily made-up eye peeking through.
"I'm writing, I'm drawing and I'm taking photographs," Chung told vogue.co.uk.
Among the pictures and self-taken snaps will be general thoughts on life, details of her favourite looks and tips on what to wear in the mornings.
"It's definitely not an autobiography, but it's me writing, so in a way it probably will have that element."
Chung is known for her svelte physique and knack for throwing together the perfect outfit for every occasion.
However, the 29-year-old believes her real talent is art, having previously illustrated the cover of charity Ctrl.Alt.Shift's Dear Diary book.
"Drawing is probably the main, number one thing I can do - that I'm best at," she said.
"It makes sense - if I can get dressed well, then that's what I'm good at: visuals.
"Putting things next to things."
• It is available to pre-order on amazon.com
- Cover Media