Address:
7 Sales St, Freemans Bay
Phone:
(09) 307 8148
Rating out of 10:
Food: 8, Service: 7, Value: 8, Ambience: 7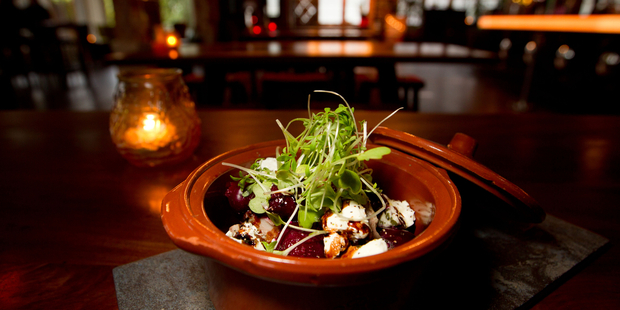 It's a bit of a shock, walking into Sale Street. The space is cavernous, and seems overpowered by the bar. But, at bottom, a bar with food is what it is. The decor is eclectic - exposed brick walls, ornate light fittings and hangings, and a seating space that appears to go on forever.
We waited at the bar until someone was free to talk to us, then found ourselves a table that appeared to be used for dining. Perhaps if we'd ventured further into the room we would have found a table with chairs, but we weren't planning to stay for long, so stools were just fine. We also could have eaten outside in the large terrace garden, however, even with the heaters at full noise, it was a little chilly.
But seated we were, menus appeared, our ordered drinks arrived, and we set to.
It's quite a lengthy menu for a bar with food, with several subdivisions. We opted for beer-battered onion rings from the snack menu and duck salad from the suggestions for "something light".
The onion rings were the let-down of the meal - huge, fat loops of rather soggy batter with little to recommend them.
Conversely, my duck salad with baby beetroot, tomino cheese, candied walnuts and saporoso vinegar was a stand-out.
I tried to make it last as long as possible and swore (several times, I'm told) that I could eat such food every day for the rest of my life.
From the gastro-inspired menu, Bill chose the sausage selection with mash, mustard and jus. The three varieties of sausage were first-grade, meaty and robust, and came with enough jus to keep everything moist.
I don't usually order steak in a restaurant, but I made an exception this time, and was pleased I had. The scotch fillet was just medium-rare enough to retain bite without being chewy, and the horseradish bearnaise gave it a real kick. A little pot of slightly spicy red wine jus set off the whole plate to perfection.
And what is a dinner without dessert? Sale Street offers only three options, but our choice of pumpkin pie with pecan brittle and lemon curd icecream was well thought-out and delicious.
With the bistro at Sale Street now closed, for whatever reason, the focus at first glance seems to have veered away from food to centre on drink. But if you do eat here, you'll find that head chef Bryan McGruer knows his business and, for the most part, Sale Street delivers the goods.
I know where I'll be heading once summer comes around again. That outside garden really looks inviting.


Our meal: $149 for two starters, two mains, one dessert, two beers and three glasses of wine.
Wine list: Covers all the options, with little to frighten. My Clos Marguerite sauvignon blanc was as reliable as ever. Bill enjoyed the Hot Throat chilli lager and the Aucklindian pale ale, both from the 1010 Brewery on the doorstep.
Verdict: The size of the space is a little daunting, but it is well-managed and warm, and the food is mostly excellent.