Address:
482 New North Rd, Kingsland
Phone:
(09) 815 8652
Cuisine:
Middle Eastern
Rating:
7/10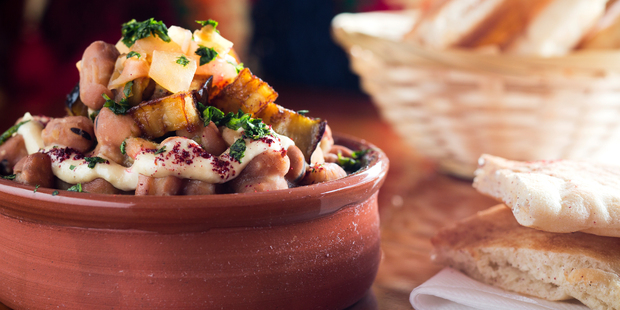 Some of the best food comes in the most unassuming of disguises. Take Petra Shawarma. A sign could read "no architects or designers have suffered in the opening of this restaurant". This small eatery, wedged between a Mexican restaurant and a bar in the middle of the Kingsland food strip, is modest in the extreme, cheerfully lit, more a cafe or takeaway than a restaurant really; it gives nothing away at first glance. Even checking the blackboard menu and the counter food inside doesn't distinguish it from the typical kebab shop. But don't be fooled.
Looks can be very deceiving. Grab a seat at one of the few tables inside, or brave the chill outside, and you'll find yourself on a wild ride of flavours from across the Middle East.
Owner Dalal Omar heads the kitchen and you can tell she cooks from the heart, enthusiastically explaining flavours, ingredients and the techniques she uses in making each dish. Her chirpy demeanour and sheer enthusiasm is infectious.
When she moved from Jordan to New Zealand it was her dream to set up a restaurant to show off the cuisine of her homeland and the surrounding regions. Five months ago, she did just that, opening Petra Shawarma with her sister. And, ever since, there's been a steady stream of fans who can't get enough of her food.
Making everything from scratch means there's an honesty to each dish that is undeniable. The bowls of hot fava beans, slow-cooked and spiked with paprika, yoghurt, fresh chopped tomato and lemon juice, tingle with a sprinkle of sumac and are complete with a generous lick of olive oil. The flavour is divine and from the first mouthful I swear I could have been back in Cairo, standing shoulder to shoulder at one of the roadside stalls that peddle the steaming bowls of thick soupy "foul" to locals.
In Egypt this dish is served in the morning, sufficiently nourishing to last the whole day, but it works equally well for a nippy winter's evening.
An order of falafels brings some of the lightest little chickpea patties I've tasted and dunking these into sharp yoghurt dressing and Dalal's special garlic sauce (so airy it was almost a foam) before popping them into my mouth, was heavenly.
"Shawarma" generally refers to marinated meat, usually lamb or chicken, skewered and slowly cooked on a rotating spit then sliced and served with rice and salads or as a stuffing for flatbreads. Dalal prefers to cook the meat to order, which notches it up from the average kebab shop, she then rolls it into a flatbread before slicing it into thick rounds. Salads are served on the side, which means the whole experience is more alive and less soggy. Our chicken shawarma sang with the scent and flavour of citrus and spices.
Plates of hummus, liberally drizzled in olive oil and tabouleh were outrageously fresh and we couldn't get enough of each, scooped up with triangles of warm, floppy pita bread.
We wanted to try the kooba (meat-filled dumplings) but they were unavailable, and the fatoosh salad, with its pieces of ripped fried pita bread, looked fabulous, but we'd done our dash.
I spied a beat-up pot gurgling away on the stovetop and enquired as to what is was. "Just for the family dinner" came the response but later a small bowl of the steaming broth and succulent pieces of chicken was delivered to our table. I breathed it in and was transported by the heady aroma of citrus and cardamom, with maybe a hint of cinnamon and nutmeg too. It was divine. I hope Dalal will open it up to more than "just family" and add it to the menu.
We sipped from bottles of malt-flavoured Barbican, a non-alcoholic beer, and reminisced about our travels through the Middle East, for that's where feasting is as good as this.
As we paid the bill, small sticky tiles of baklava caught my eye so I had a few pieces dropped in a bag for later. One nibble in the car led to another, then another, until I'd demolished both pieces of this gloriously sweet layered nutty pastry.
Petra Shawarma is a delight, mostly because it is a surprisingly understated affair that impresses in all the right departments - flavour, freshness, hospitality. I felt like I'd been welcomed into someone's house to share a meal. How lovely is that?


From the menu: Shawarma - chicken wrapped ($13), homemade falafels ($7), fava beans $8, hummus $6, tabouleh $6, baklava $5 a piece, non-alcoholic beer (plain and flavoured).
Drinks: Unlicensed
- VIVA