Elisabeth Easther reckons a farm stay could help satisfy your country craving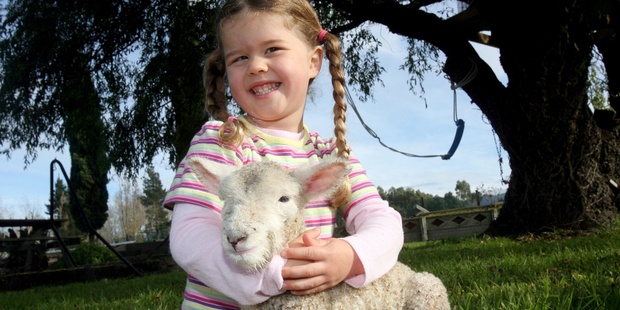 Hands up all you city slickers who fantasise about throwing in the urban towel and moving to the country? I do it all the time. I want to have pigs for pets, and eat them, too. I want a pack of waggy dogs, and a big barn cat named Floyd who catches rats but never ever brings down a native bird. I want a cow, maybe two, I'd milk them by hand, while quails and red shavers would provide the huevos at my rancheros.
Sounds like the good life to me, but it's not entirely practical to up sticks and move to the sticks. The alternative is farm stays because there are hundreds of rural people keen to give visitors a taste of life down on the farm. Book one for the school holidays and test your fantasy for a few days.
Kereru Farm Stay
Pukekawa, Waikato
A mere 45 minutes from central Auckland and less than an hour from Hamilton, Kereru Farm Stay (which includes Peach Hill Donkey Stud) is just the ticket for people who want to taste life on a hobby farm.
Turning into the driveway, you are surrounded by paddocks where donkeys, goats and Dorper sheep graze and there are chickens. Owner Anke swears some recent visitors had no idea where eggs come from until they saw some lying in the straw of the hen house. She teaches her two endearing dogs tricks. Younger guests love being led about on a donkey or pony while Alex, your other host, sometimes gives tractor rides. Join in when it's animal feeding time and enjoy an informative talk at the same time. The lodgings are a very comfortable two-bedroom Lockwood home. It's also a great base for day trips to Nikau Caves, fish and chips on the beach at Port Waikato or to visit Waingaro Springs. The spa pool, with its view of the paddocks, is a crowd-pleaser so don't forget your togs. And for children, when they're not playing with the animals, there's a sandpit, climbing tower and swings.
• Phone: (09) 233 4486. $120 per couple (minimum 2 night stay in weekend).


Waitomo Big Bird B&B and Petting Farm
17 Waitomo Caves Rd, Otorohanga
Few B&Bs boast big birds among their attractions, but the aptly named Big Bird B&B in Waitomo isn't like many others. Set on 28 rolling green hectares, Ann and Ross Barnes' farm has ostrich and emu. The Barnes also have over 50 miniature rare-breed animals, including mini llamas, alpacas, sheep, cows and bulls. "Mr Kemp" is possibly the smallest bull in New Zealand, standing just 2.54cm taller than the Guinness World Records' smallest bull in the world. Add to the mix a herd of young Jersey dairy grazers and you have quite a menagerie. The accommodation is in one of two self-contained cottages or three farm-stay bed and breakfast rooms. The property is also open to the public each day from 2pm to 5pm. Proprietors Ann and Ross say the revamped farm show will operate again from October and will feature the world's largest spinning wheel. Children under 30kg can ride the miniature horse and, if you're staying, Pippy, the border collie, quickly becomes a devoted companion. Or you can "adopt" a pet during your stay. Choose from guinea pigs, rabbits or kittens, and kids or calves in season.
• Phone: (07) 873 7459. $50 adult; $25 child; $30 teen; $20 preschool. Chalet $110 (double). Family bungalow $160 (2 adults and 2 children).


Uncle Bill's Cottage
914 Ruatiti Rd, Raetihi, Ruapehu District
Uncle Bill's Cottage is a delightful country cottage on a working sheep and beef farm. Everyone who stays there leaves raving about the fabulous time they had. Whether you're after peace, a family holiday, or a break away with mates, the cottage is ideal, with with little extras to enjoy such as homemade jam, fresh eggs and marshmallows to welcome you. Toasty warm in winter with a great log fire, it's also perfect in summer with the river meandering past the front deck. Visiting children (and adults) can help feed the animals, collect eggs from the hens and enjoy country life. Toast marshmallows over the fire pit as the sun goes down, then relax in the outdoor bath overlooking the river. Uncle Bill's is a great base for ski-ing, hiking, cycling or fishing around Ruapehu. Time your trip right, says Jenny, and you'll even get the earliest lambs.
Blue Duck Station is another wonderful rural retreat in the Ruapehu District. They're doing wonderful things for conservation plus they offer horse treks if you're fond of a stint in the saddle.
• Phone: (06) 385 4236. $175 a night per couple.


Lake View Heights
269 Te Waerenga Rd, Rotorua
As its name suggests, Lake View Heights is an elevated property above picturesque Lake Rotorua. With views of Mokoia Island and volcanic Mt Tarawera in the distance, it's an awe-inspiring panorama whatever time of year you visit. One border of the property is Te Waerenga Scenic Reserve with its native trees and ferns; the other is farmland with herds of deer, cattle and sheep. Nature is everywhere. For many visitors Alan and Georgina's gardens are a highlight, while others are entranced by the tui, bellbirds and fantails. Or perhaps you're after a more fruity experience? The orchard should thrill you. In terms of livestock, the sheep, alpacas, cattle and pig are very friendly and can be fed by hand, which children and adults love. Tui, the dog, is popular with visitors and she never barks. The chickens provide fresh eggs for breakfast and if you decide to have an evening meal, as much of it as possible will be home produce. The rooms, singles or doubles, are super-comfortable, there's free wifi and a large wood-burning fire for warming up on colder nights. All this makes Lake View Heights a heavenly place to relax, unwind and enjoy nature.
• Phone: (07) 332 2026. $185-200 a night per couple.


Clubhouse Farm Stay
15 Uapoto Rd, Taupiri.
Set on 101ha of pastoral Waikato land, the Clubhouse is an architectural beauty featuring open-plan living and huge windows with awe-inspiring views of the countryside elegantly edged by distant mountains. And, as if you needed more enticing, the rooms are bathed in sun all day. The farm tours are a major drawcard and guests can learn about a variety of animals and get close to some of them. Desley and Steve do an awesome breakfast, and dinner is available on request with specialties including lamb, beef and venison, plus homegrown and fresh local produce. See it, pat it, eat it - the perfect combination for carnivores and vegetarians. You can just pretend you never read that. Visitors are welcome to bring their horses or dogs if they don't like being parted from them for too long. Thinking ahead to the July school holiday, calving happens then, so, if your children wish to see calves and actually pet them, now is the time to book.
• Phone: (07) 824 6653. $180 double, $90 single.


Camperdown Farmstay
455 Coatesville-Riverhead Highway, Albany
Camperdown sits snugly in the green, fertile Coatesville Valley and visitors say, once they've stayed a night, they never want to leave this working farm and its sheep and cows. As you get out of your car you'll be greeted by Sam, the dog, followed by humans Chris and Dave. They'll show you to your comfortable quarters in the upper level of their home where views over the gardens to surrounding hills will soothe your soul. There are four bedrooms with private bathrooms, and a guest lounge with TV, stereo and tea and coffee. But you won't want to sit around watching TV because you'll be out into the garden like a shot, or strolling to the stream that flows through native forest to a small lake. This is a great base to explore from, as close by you'll discover vineyards, Muriwai Beach, or horse-riding or bush-walking in the Waitakere Ranges. Dave loves a good project, says Chris, and the one that stands out most in visitors' minds is the swing bridge that leads to the tennis courts - a marvel that has to be seen to be believed. Now that it's completed, Dave's constructing the world's biggest chicken run. Anyone for an omelette?
• Phone: (09) 415 9009. $170 B&B double, $110 B&B single.