Teddy bears have never lost their appeal for young and old alike, finds Anna Subritzky.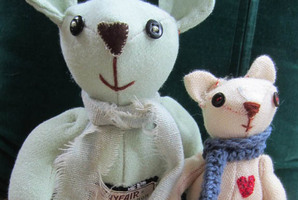 When I told my husband I had bears to make he gave me a dopey, hopeful look and asked which homebrew starter kit I'd be using. Surely this doesn't constitute craft, he'd added. After some tut-tutting and eye-rolling on my part, I informed him that I meant bears with arms and legs, button eyes and fur. He lost interest and left, feeling somewhat dejected.
Most people are familiar with the story of how Teddy bears came into being: the American President Theodore Roosevelt, the bear-hunting trip and the sportsmanlike attitude he displayed when refusing to shoot a cornered and restrained bear in Mississippi in 1902. News of his noble behaviour disseminated quickly throughout America. Spurred on by a light-hearted cartoon parodying the episode, a Brooklyn sweet-shop owner created a stuffed toy bear and dedicated it to the President, naming it Teddy. To this day Teddy bears remain a favourite toy for children and adults alike.
This Ted can be made from an old woollen scarf, jumper or blanket to give him a pre-loved feel.


Step 1 - Copy pattern pieces to desired size. Pin pieces to doubled fabric. Cut x2 heads, x4 legs, x4 arms, x2 fronts, x2 backs, x1 gusset.
Step 2 - With right sides together, pin gusset to x1 head piece, matching the As. Sew together from nose over head to back of neck (5mm seams). Repeat on other side with other head piece. Sew head sections together from below nose to neck, ensuring that gusset is clear of seam. Trim seam, turn and stuff firmly.
Step 3 - Cut a cardboard oval to fit head opening, insert at base of head over stuffing. Close opening over cardboard with a gather stitch. Cover with a fabric oval.
Step 4 - Sew ears together in pairs (right sides facing), leaving base open. Trim seam and turn to right side. Blanket stitch open edge together and top stitch edge if desired.
Step 5 - Pin both sets of arms and legs together (right sides facing) leaving gaps along outside edge for turning. Sew, trim seam, turn and stuff. Slip stitch gaps closed.
Step 6 - For body, sew front pieces together (right sides facing) D through E through F, and G through H through J on body back, leaving opening at centre back. Stitch body front to back, matching centre seams (it will look a bit like a rugby ball). Trim seams, turn through opening and stuff, sewing gap closed when finished.
Step 7 - Using crochet cotton, waxed thread or doubled wool and a large upholstery-type needle, sew head to body. Insert needle into body at top seam intersection and bring out of the body approx. 1cm to one side. Insert through head base. Continue stitching until head is secure. Repeat with arms and legs, drawing the thread through the body to connect each set of limbs.
Step 8 - Stitch over nose with embroidery thread using satin stitch or, for larger bears, cut a felt triangle and blanket stitch in place. Sew on button eyes and stitch an arrow shaped mouth with wool or embroidery thread. Make Ted a scarf and personalise as you see fit.


Materials/tools
• Old woollen scarf, jumper or blanket
• Sewing machine (optional)
• Pins
• Scissors
• Needle and thread
• Heavy-duty thread and large needle
• Stuffing
• Buttons