Ben Crawford discovers how a new space can feel lived in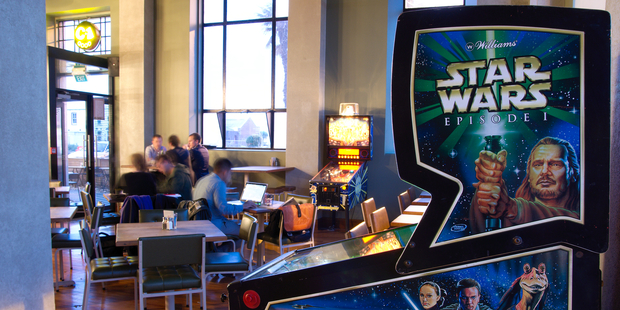 Nervous and paranoid are just two of the words to describe Sam Crofskey's trepidation at re-opening C1 Espresso. His cafe had been one of Christchurch's most loved for 17 years, before it was destroyed in the February 22 earthquake in 2011.
His customers had an affectionate connection with the old space. They'd grown up there; some had even met their wives and husbands within its confines. It was this relationship that led to Sam's paranoia about getting it wrong when starting again.
The old place had evolved like a collection after being worn in by thousands of coffee lovers over time. The new space, across the road from the original site, needed instant buy-in. There had to be nods to the old C1, but Sam didn't want to recreate it perfectly, and agonised over every decision.
After stripping back the walls, ceilings, windows and floors to their original period state, he started the fit-out with the tables, custom making them out of rimu and kauri salvaged from the old cafe.
Then he focused on the chairs. They needed to appear as if they had been collected over time, a signature style of the previous fit-out. Working with industrial furniture designers, Framecraft Furniture, a family of new seating was made that look collected.
Finally, his attention turned to the lighting. Sets of giant glass globes were in the old building but they were lost in the quake. Obtaining more from the Arts Centre, he replicated the huge chandelier in the Town Hall to create two masses of hanging globes.
Their massive form, hanging low in the centre of the room, was a deliberate decision to build intimacy into the otherwise open space, an aesthetic that would have been foreign to his old regulars.
The only items that were saved from the destroyed cafe were the pinball machines, an arcade horse and a sewing machine water fountain. Including them in the new space provided some immediate familiarity.
On the day C1 opened again for business, the excited customers got it. The ongoing challenge now is to layer in a sense of discovery over time, a design principle Sam is passionate about. He's constantly changing, adding and hiding, letting customers unearth features they hadn't found before, providing reasons to share with friends and return.
Sam's journey of starting again from scratch provides a great example to consider when moving house, where we transition from one space to another, bringing with us some aspects, but leaving behind many treasured ones.


Five considerations when starting over
1. Don't replicate everything
Identify the features of the old place that you loved and simply couldn't do without, then ensure you recreate them. It might be the kitchen, open-plan flow and bi-folding doors accessing a deck. By focusing on these key features you will create a familiar framework that will help you be happy in your new home.
2. Can you repurpose?
The tables in the new C1 were made out of timber salvaged from the original business. Can you create the same connection between your past and present homes? Maybe you could turn old flooring into bedside tables or an original piece of art (just don't go destroying the place for the new inhabitants).
3. Apply easy design principles
All spaces are different. If your old home was cosy and you're moving into a new one that's bright and open, use dark colours on the walls and ceiling to close the spaces in. Or vice versa if you want to open up a dark space.
4. Refresh and reinvent
Shifting house provides an opportunity to refine your style. Decide what furniture you absolutely love, recycle what you don't, then introduce new pieces, to stamp an evolved aesthetic on your new abode.
5. Add some discovery
Just like Sam, you don't have to show all your design cards at once, ensuring a freshness for you and your guests. Add quirky details that will be found over time or rotate through a collection of art on your walls.


• Visit C1 Espresso at 185 High St, Christchurch, and on Facebook