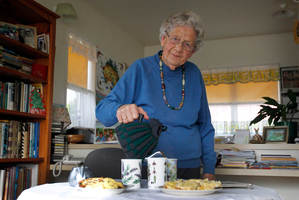 Ninety-year-old Maisie Grimwood will be living on barley sugars and cups of tea this weekend - and she's the first to admit it won't be easy.
But the Thames rest home resident has no hesitation in stopping her meals for the 40 Hour Famine because she knows the money raised will go to a good cause.
A rebel at heart, she hasn't sought her doctor's permission but says she is in pretty good health generally.
Vegetable soup will be the one food she will miss the most during the fast but she says she is determined not to let down her sponsors, including St James Church where she is a parishioner.
The former Raglan resident said she would carry out the challenge as cheerfully as she could.
"You don't want it to be easy. You're thinking of those that are starving."
Mrs Grimwood has done the famine since 1971, each time raising about $1000.
This year the famine will raise money for children living in poverty in Papua New Guinea's Bougainville.
PNG has one of the highest maternal and infant mortality rates in the world, with one in 15 children dying in childbirth. Add to that 43 per cent of children who do survive birth have had their physical or mental growth stunted because of malnourishment.
The United Nations' Human Development Index (which measures wellbeing) ranks PNG at 157 out of 187 countries. New Zealand ranks six.
Each year more than 120,000 Kiwis take part in the 40 Hour Famine and raise more than $2 million for children in the developing world.