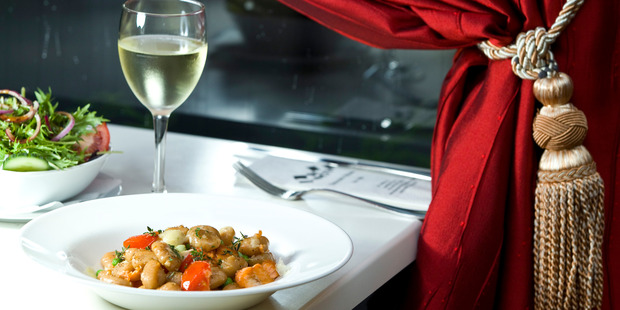 I should never have suggested my three mates meet me at the pub. My idea of a quick beer soon degenerated into several rounds and by the time we arrived at Da Vinci's the mood was somewhat more boisterous than it ought to be for considered contemplation of cuisine.
Fortunately, they are not averse to clientele having a good time at Da Vinci's. I did have to exercise a steadying hand at times but I am pretty sure that nobody said that we know the prime minister and we're going to make sure the waiter gets the sack. It was, however, up to me to keep an eye on what we were eating since the others were too busy arguing about whether it's fair enough for a restaurant reviewer to write anything he likes about his dining companions so long as he pays the bill.
I'd dropped in to Da Vinci's for a bowl of pasta a couple of times and had been impressed but, even with the Professor in tow, I wouldn't be able to get a sense of the whole menu. Hence the three mates. I told them they could come if they ordered what I told them to order. I didn't want to be left to work alone while they all asked for steak, egg and chips and 12 bottles of Peroni.
Da Vinci's occupies half of the street frontage in an office building that was previously home to Mozetta, a risibly bad spin-off from the rather good Sahaa in Khyber Pass, both of which have now closed. Da Vinci's itself is a branch of a place in City Rd, near Number 5. I ate there some years ago, before this paper was born, and remember being underwhelmed. But the Albert St place, just a block along from the office, kept catching my eye with its bold livery in the colours of the Italian flag.
The interior is either lush or garish depending on your point of view: gilt-framed mirrors, chandeliers, heavy drapes on the windows. It's a valiant attempt to inject ambience into a characterless space and it almost works.
Some excellent waiting staff make up for any fault, though. Two of the three who attended our table were from Milan and were well-informed about the food and the wine. They also told me I speak very good Italian, which was very kind of them, particularly since it is not true.
Da Vinci's has a large menu: 18 starters; the same number of meat dishes and pizzas; more than two dozen in the pasta and risotto section. It's a pretty good rule of thumb in dining out that there's an inverse relationship between variety and quality, simply because a big menu inevitably introduces an element of factory production into the kitchen. The rule holds good here, though it is worth adding that the prices are not those of a place that is up itself. Only the eye fillets and a seafood platter are over $30 and you'll get a big bowl of pasta, a side salad and glass of wine for that price.
We were pretty happy with what I ordered (well, those who weren't were ignored), which started with some excellent house bread, stuffed with dried tomato and basil before being baked, and some grissini (bread sticks), which are one of the few completely incomprehensible errors in Italian gastronomy.
I was also attracted by the calamari because the menu made the point (in capital letters) that they were female. Now, I am sure the sex of a squid is of great importance to an ichthyologist, but I had never heard of a calamari gender divide on menus. The waiter told us it was because the females were "softer". He has not met the Professor.
The risotto with sausage was agreeably al dente and the sausage was decently tasty, but the truffles promised in the menu were not grated on top in the Umbrian tradition and if they were present, it was only in spirit.
Of the four veal dishes, we enjoyed a very competently done marsala (a creamy sauce made with that fortified wine) and some excellently garlicky meatballs.
Desserts, including a superb tiramisu, sustained the impression of a very cheerful and authentic Italian trattoria that does not stand out from the crowd - if you are looking for top-class Italian fare, look elsewhere - but provides solid home-style food at a reasonable price.