Herald Rating:
4/5
Address:
448 Mt Eden Rd, Mt Eden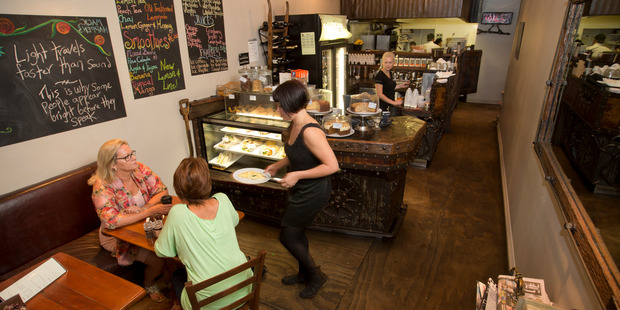 We came here because I was bored of going to the usual jam-packed suspects (Circus, Frasers) on Mt Eden Rd. Ironique always looked busy and I wanted to know why.
Parking was no problem on this occasion but can be terrible in Mt Eden. I find as long as you're not afraid of parallel parking on a busy road, you find a space before long.
We walked in and immediately thought the cafe was humming. There was a solid line of people waiting to order. It's a narrow space but we walked through to the outdoor seating area and found it quiet, spacious and more relaxing.
The most unusual thing on the menu was mince on toast. I know this is on many cafe menus but it still astounds me that what everyone once viewed as peasants' food is now hip. Bang a poached egg on it and it's suddenly gourmet.
We ordered the eggs benedict with bacon and the Ironique big breakfast. Both meals came out in less than 10 minutes and tasted great.
The sausage on my plate had been scored so it flared out like crackling. Odd.
The coffee was pretty much a standard good brew. Hot and strong. I also tried a smoothie and it was a major highlight.
The service was top-notch. The staff were friendly, welcoming and helpful.
We recommend if you come here you try the smoothies. Also, take a trip to the toilet outside, which is decorated in a bunch of unique ornaments made from scrap metal and old hand tools.
Overall we thought Ironique was an upbeat, friendly place that did great food and drinks. Definitely worth a visit.