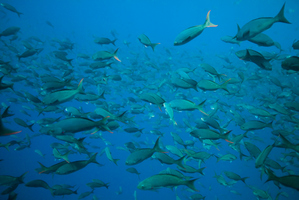 This is the time of year when hapuku and bass move into water of 100m or less from 300m or 400m and for fishermen it is a good opportunity to tick one of the toughest boxes in angling.
For these deep-water monsters are not easily encountered. In pre-European times you could probably catch a hapuku not far from Rangitoto Island but relentless pressure from market fishing and, to a far lesser degree, sporting anglers, has decimated inshore populations and today these magnificent creatures are regarded as inhabitants of extreme depths. It is simply because they are so slow growing, and that it could take 50 years to replace a population even if no fishing were involved.
Scientists tell us that hapuku grow at roughly half a kilo a year, so a 60kg specimen is an old man of the sea. The only places you can catch groper, as they are called in southern climes, in shallow water is in Fiordland and at the Chatham Islands where schoolies of 15kg can still be found in 10m to 15m.
Deep-sea bass and are even harder to find around the coast with most populations living off the edge of the continental shelf. They not only grow much larger than hapuku, but are better table fish with sweet, white flesh.
The recognised destinations for hooking 'puka and bass are the deep reefs in the outer Bay of Plenty, the Kaipara Trench and the Mokau Trench which lie about 90km off the west coast, the Ranfurly Banks off East Cape and the reef systems off the Three Kings Islands in the far north.
So when a party of eight keen anglers who enjoy the plumbing industry as a common denominator boarded the charter vessel Enchanter at Mangonui a fortnight ago they were full of anticipation. Their fishing dreams were tempered with a certain trepidation as the weather and the sea are rarely benign when the vessel is sitting over a vast reef 30km out from the Three Kings, themselves 150km from Mangonui.
This is big water and it yields big fish. You have to use heavy tackle to stop a huge bass from breaking your line on the rocks, and 100kg braid line is standard. Traces are made from 200kg monofilament with size 16 circle hooks and two sinkers each weighing 32oz taped together.
When a big fish bites the angler must wait until the rod bends before winding and striking, then it becomes an arm-wrestle to lift the powerful fish up for the first 10m before settling in to a smooth, steady rhythm. The barrel-bodied 'puka and bass float up for the last few metres, and the crew watch as the angle of the line rises in the blue water before shouting "Thar she blows!" as the fish wallows on the surface.
For John Snow, Daniel 'Diesel' Robin, Leighton Johnston, Chris O'Sullivan, John Bebbington and Murray and Clayton Knowles this was a week of firsts, of personal bests. Kingfish of 41kg, 'puka of 41kg and bass of 50kg topped the honours, and everybody took home a chillybin of sweet fillets.
The charter operators who work these offshore grounds apply their own voluntary code of ethics. They ignore limit bags which allow anglers to take up to five hapuku or bass a day, limiting their customers' catch to one big fish and a couple of small "eaters" for the five-day excursion. They know that these old creatures are difficult to replace and they treat them with reverence and respect.
Fresh water: Spawning runs in the Rotorua lakes have been triggered by the rain and cold snap. The fish trap on the Te Wairoa Stream at Lake Tarawera has been recording up to 20 fish a night, while only 40 trout went through the trap in the whole month of April.
Bite times: Bite times are 6.20am and 6.45pm today, and tomorrow at 7.10am and 7.30pm. These are based on the moon phase and position, not tides, so apply to the whole country.
Tip of the week: When fishing for hapuku be mindful of the life cycle of the fish and think of the future, taking only enough for immediate needs.


More fishing action can be found on Rheem Outdoors with Geoff, 6.30am Saturdays, TV3.