Address:
10 Waitomo Caves Rd, Waitomo
Phone:
(07) 878 6674
huhucafe.co.nz
Rating:
3/5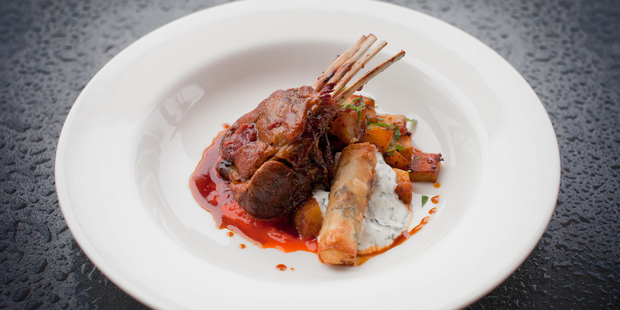 A nice wintry twist to the lamb rack was tender enough to carve with a fork. Photo / Supplied
The Lonely Planet guide to New Zealand describes this cafe as "easily the best choice" in Waitomo. The locals seem to agree. The Professor and I were staying in a bed and breakfast the other side of Otorohanga about 25km away and when we asked the woman who ran it whether there was anywhere to eat in Otorohanga, she was very warm about Huhu.
We were down there because I had foolishly agreed to the Professor's suggestion that we go black-water rafting. For the benefit of the uninitiated, the only accurate word in that phrase is "water".
First, it is not black; it's just like ordinary water, though when you are neck-deep in it in some cave dozens of metres underground with only the occasional glow worm for company, everything is black.
Next, the inner tube they give you does not satisfy the definition of a raft. When I sat in it the way they told me to, I ended up with my arse hanging below the surface and my face between my knees. The fact that my chest was so compressed that I could not breathe seemed like the least of my worries.
"Isn't this great?" the Professor said to me as she floated serenely past. I did not reply. I expect to start speaking to her again in October.*
I digress. All this excitement was ahead of me when we sat down to lunch. I liked the look of the rabbit hotpot. The waitress told us it would take 20 minutes and so, conscious that we had to be drowned in a hole in 45 minutes, I said I would have the lamb burger. It took 25 minutes, even though the place was almost empty, and then only arrived after I had offered a time check. It was also entirely unremarkable: they had failed to pick out the decaying yellow leaves from the salad and the too-large chips were floury and indigestible.
But the Professor liked her mushroom fettuccine, despite having to put up with my mumbling "the condemned man ate a hearty meal" and suchlike, and prevailed on me to return that evening. By this time, I was in a much better frame of mind since I had survived the underground expedition and was savouring anew the sensation of being alive.
The restaurant occupies an upstairs space with a nice view over the village and the bushclad hills beyond. An outside deck and an inside logburner make it a room for all seasons. Work by a local artist in which door handles were a recurring motif gave us something to contemplate while we waited for the rabbit, which we now had time to consider.
It would be an exaggeration to say it was worth the wait: the hotpot consisted of a rather bland filling in a tart shell, which was competently enough assembled but quite without flair.
The Professor ordered the spanakopita - the fancy Greek name for the spinach-and-feta pie that is one of her own specialties - and was unimpressed: the decision to create spring-roll-shaped cigars of pie upset the balance of crust and filling that is the essence of a good spanakopita. It was closer in consistency to the Chiko Roll, an Australian snack used to cure hangovers and chock trailer wheels.
My main gave a nice wintry twist to the lamb rack, a cut I've only known as grilled and baked. This one was from the shoulder - the part of the animal that is more richly tasty than the leg, and after slow-cooking it was tender enough to carve with a fork. The accompanying medley of baked veg, mainly pumpkin, with Moroccan-style spices, went very well.
The Professor's more modest choice was grilled mushroom with cheese and tomato, which was just the kind of comfort food she was after, but to apply the name "broccoli salad" to a side dish seemed a slightly grand name for warm broccoli with small slices of chilli. There was no faulting a generous serve of a homely apple crumble.
Huhu gets close at times to slick city standard, but if anything it's let down by trying too hard. Keeping it simple is sometimes the best policy.
* To tell the truth, the black-water rafting was jolly good fun. And now I've straightened out, I'm talking to the Professor again. I'm not sure she regards that as an improvement.
Verdict: Trying too hard is not always the best policy.