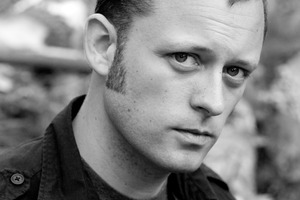 The book I love the most is ... I don't like to pick favourites, but I'll go with Blood Meridian by Cormac McCarthy. He stares into the abyss and doesn't flinch.
The book I'm reading right now is ... Undaunted Courage by Stephen Ambrose. I'm brushing up on my Lewis and Clark history, since I'm working on my next novel, due out next year, a post-apocalyptic re-imagining of their saga.
The book I'd like to read next is ... The Year Of The Flood by Margaret Atwood. I'm in love with her writing, and admire the political/environmental allegory so often at the heart of her books.
My favourite bookshop is ... Powell's in downtown Portland, Oregon. You might know it as an online destination, but I know it as a big labyrinth of a bookstore... with rooms that open into rooms that open into rooms. An urn of human remains moves from shelf to shelf, the leftovers of a loyal customer.
The book that changed me is ... The Gunslinger by Stephen King. I read it in middle school, the most awkward, searching years of anyone's life - and discovered in Roland a model of manhood, a kind of knighthood, that I admired and began to model myself after.
The book I wish I'd never read is ... Dora The Explorer Saves The Enchanted Forest. Yet I am forced to read it every night to my daughter. And my venomous dislike of Dora, Boots, Swiper, and King Unicornio continues to grow until I feel I might be poisoned.
• US author Benjamin Percy's latest novel Red Moon (Hachette) is out now.