Each week Rachel Grunwell tries a new sport to bring you the lowdown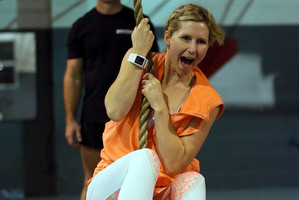 Force Basic
What is it? A circuit-style class that mixes strength, technique, endurance and motivation.
What's needed? Gym gear, water, towel.
The experience: Expect no wussy workout. The gym's owner and class instructor is Scott Cottier, who's used to training folk who are trained to kill. He served 20 years in the NZ Army, 13 of those as a physical trainer and the last six as head trainer to the NZ Special Forces at Papakura.
He's used to putting soldiers under stress physically and mentally, making them "fit to fight", by getting them to haul 150kg telephone poles overhead, or carrying fellow comrades "like a spit pig", through muck and mud and swamps. This gruelling training makes them tough and able to make decisions even when fatigued, he explains.
These days he is focused on getting the public in shape (and fat falls away as a result, is his motto).
He opened Specforce Fitness (which stands for Specific Force Training) 18 months ago and already has 350 members, many of whom are cops, firemen and sportspeople from almost every code. But he's as proud of helping athletes as he is about motivating a mum to shift 30kg.
He boasts that he's never repeated the same workout and wants to help his clients get results through a good honest session.
"I put pressure on people when they want to give up," he says.
His stance on food, by the way, is: "If it's got legs, grows in the ground or on trees, then it's what you should eat." In other words, cut out all the other rubbish.
I ask him to go easy on me. He promises: "I'll put my nice hat on."
The first thing that hits me is the size of the place, it's a whopping 1100sq m, there's even room to sprint.
I spy New Zealand Black Sticks player Krystal Forgesson and ask her how often she trains here and she says "Not enough!" I then chat to a 60-year-old who comes here because he lives nearby and "I like the place".
But that's the end of any chat for the next hour. Everyone's working too hard to shoot the breeze.
Scott demonstrates each drill and urges us to "start hard, finish hard."
I'm on the row machine (good for arms), swinging like a monkey on giant ropes across the room (good for the core), using a giant tyre as a weight to lift above my head (insane on the arms), then there are sit-ups, spot jumps, stomach crunches and running with a cushion square across the carpet, sprints and more. It's hard work.
And then I repeat the process, again and again.
One round of the circuit is tough, two rounds is punishing, three rounds is extremely challenging.
At this point Scott yells that this is the endurance phase and "when it kicks into your mindset".
My body feels almost obliterated, but I dare not slow down, or surrender. When 10 minutes remains, Scott yells at us to maintain the commitment we started with.
By the end of the fourth round I thank God that the hour is up. My body is stinky, but I smell the success of completing this mission.
How much? Full membership $25/week (weights only $15 weekly), casual $15, three months $325, six months $610, 12 months $1200.
Worth it? Scott knows how to get real results - he is a good sort, too. He does monthly fitness testing so you can track the benefits.
Try it: Specforce Fitness, 9 Karaka St, Eden Terrace, Auckland, specforce.co.nz
Rating: 9/10