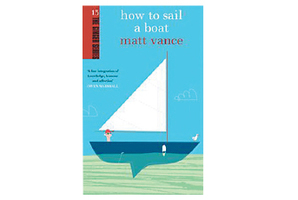 How To Sail A Boat by Matt Vance
(Awa Press $26)
These small but lovingly crafted "How To" reads are less guides than a chance for aficionados to explain their obsessions - and this, the 13th in Awa's Ginger series, is up with the best.
New Zealand boasts one of the highest rates of boat ownership in the world and we continue to draw pride from our competitive sailing prowess.
But veteran sailor Vance does his best to deter the uninitiated from jumping on board.
As Vance notes, 90 per cent of boats are rarely, if ever, sailed - hauled out for maintenance every year or two (if they're lucky), the rest of the time sitting forlornly on their moorings. "These neglected dreams grow more decrepit by the year and take on the appearance of the sea itself."
There are, he explains, two types of mariners: tinkerers who enjoy working on their boats and engines but don't enjoy sailing, and the small minority who have been "over the horizon".
He is clearly one of the latter and his relationship with his classic yacht, Siward, is something more than physical. "Of all the complex elements that make up a yacht, beauty is the one that should never be compromised."
There are cautionary tales from his racing days - a Sydney-Hobart race on an overpowered yacht in a storm; hallucinating on watch from severe lack of sleep; and a near drowning when his dinghy overturned and sank. There's a warning too about the "characters" that sailing attracts and the risks of cabin fever. "The basics of helming and trimming can be taught in a short time. Not so the art of being good company."
There is another powerful element that draws sailors - the sea itself - and Vance admits to spending much of his time ashore staring out to sea. He identifies more with old salts than glory-boy racing types, recounting the story of Bernard Moitessier, the Frenchman who, on the verge of completing the world's first non-stop solo circumnavigation, turned right and sailed into obscurity. "He was smart enough to know that the fame and fortune that awaited him, had he completed the race, would have destroyed his life."
A film-maker, South Seas adventurer and writer, Vance captures the romance of sailing without romanticising - well, mostly. "The sea is what gives a boat her personality and draws the song from her. This song will be felt most strongly through her helm - the window to a boat's soul."
I think he'd be very good company in a cabin.


• Geoff Cumming is a Herald feature writer and fair-weather sailor.