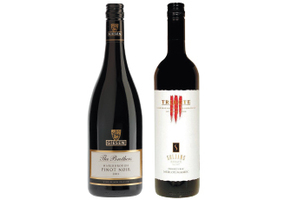 While lamenting the end of the long, lovely summer, I'm embracing the change of season with the respect it deserves. There comes a time when the ground needs water, the tanks need filling and the grapes have all been harvested and tucked away in safe, dark places to begin that mysterious process that transforms them into wine.
Let the heavens open, let the temperature drop, let the wind roar - it matters not, for the country's winemakers are indoors and tending to what, for many, will be a cracker of a vintage.
It's usually about now that our attention becomes more focused on those red varietals that may have taken a back seat over those languid, almost never-ending days of summer.
I've been enjoying a number of wintry, warming New Zealand reds of quite astonishing quality - reminders that we have come of age with our (previously sneered at) Bordeaux and Rhone-style wines. For example, I've been sitting for some time on a Black Barn Vineyards Hawkes Bay Reserve merlot. It's breathtakingly spectacular, a wine of seamless precision with enough grunt to stop you in your tracks, and enough structure and complexity to compete with the old world's very best.
At $60, it may be at the top end of consumers' budgets, but given the quality of the wine and compared with what you'd pay for international equivalents, it's a bargain.
Dry River, the prestigious Martinborough vineyard that under new direction continues to produce wonderful wines of character and finesse, recently released their 2010 Lovat syrah, at $64. It's gobsmackingly beautiful, and yet another example of how and why New Zealand syrah keeps winning accolades and medals at a host of international wine competitions.
Our syrah producers understand that harmony, balance and gentle understatement are now in vogue and much preferred to those brash feral beasts that used to have judges reaching for superlatives.
New Zealand pinot noir, just for good measure, continues to do well, picking up new converts who wonder how such fine wine can be produced at such reasonable prices.
Looking for a $20 pinot? They do exist. Try Marlborough's Gunn Estate Reserve 2012. It's a lighter style - sweet, flavoursome and vibrant.


Recommended
2011 Soljans Tribute - $40
Searching for a red winter wine with a point of difference? Look no further. This blend of merlot and malbec grapes from Hawkes Bay vineyards produces a moreish mix of flavours including coffee and dried herbs.
2011 Giesen The Brothers Marlborough Pinot Noir - $40
A striking pinot noir that hits all the right notes, this has well-integrated tannins, a mix of savoury and earthy tones, and a silky textural finish. Charming elegance.