Herald Rating:
3/5
Address:
57 Victoria Rd, Devonport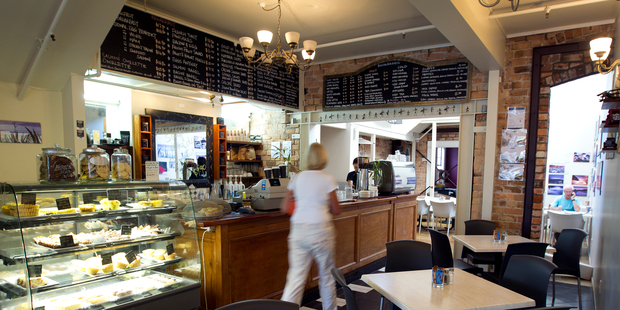 We came here because we were in the mood for a dose of nostalgia and Devonport always brings back pleasant childhood memories. Plus, we'd heard the cafe is known for its latte art.
Parking was available at one of the pay and displays on Victoria Rd.
We walked in and immediately thought Devonport Connection Cafe left much to be desired in terms of aesthetic appeal, although the tarts and cakes in the cabinet looked enticing. It reminded me of a backpackers', with international flags, brochures tacked on the wall and Kiwiana photos for sale - oh, and a chandelier. You wouldn't say it lacked ambience but it did look dated.
The most unusual thing on the menu is the bacon and banana salad ($16.90).
We ordered the eggs benedict ($14.90) and the omelette with salmon ($15.90).
My omelette came with a generous portion of smoked salmon and I was glad to see it hadn't been chopped into pieces but laid in one piece on top of the fluffy egg. It also came with little rounds of french bread and a small salad, a little retro presentation-wise but tasty nonetheless. The bene had a light and lemony hollandaise and the bacon was cooked to crispy perfection.
The service was very good. The lovely young couple running the place appeared to know a lot of their customers by name. We were surprised at how busy it was for a Monday.
The coffee lived up to expectation. My latte was strong, attractive and wearing a nice fern top. However, the old-fashioned mug it was served in was, again, something you might find in a hostel.
We recommend if you come here, prepare to go back in time. You could even get the ferry over and follow up with a visit to the Victoria Theatre, New Zealand's oldest purpose-built cinema.
Overall we thought this isn't the cafe to come to for style, but with very reasonable prices - the total bill came in at under $40, which rarely happens - we can't complain.