As Canvas' agony aunts, Denise L'Estrange-Corbet and Pebbles Hooper have been giving advice for years. But privately they have been battling their own demons, they tell Suzanne McFadden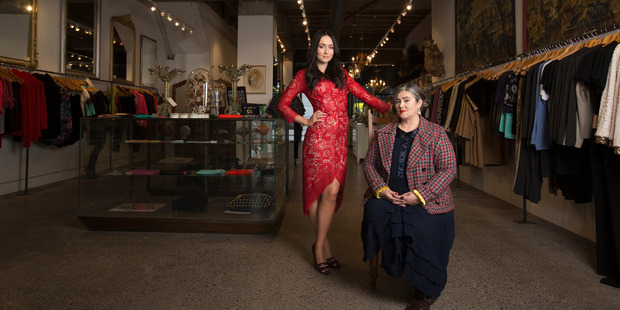 Dear D & P, my daughter texts to say she's staying at a friend's for four days, when she's actually in hospital on the verge of a diabetic coma. What do I do?
It's the kind of dilemma letter our own "agony babes" Denise L'Estrange-Corbet and Pebbles Hooper have had to answer in Canvas every week for the last seven years. Except this is one they might have penned themselves.
But while the World designer and her stylist It Girl daughter have been dishing out advice on other people's predicaments all these years, they've had their own crises to resolve within the walls of their eclectic home in Freemans Bay. Mainly, Pebbles coming to terms with her incurable illness, Type 1 diabetes.
So in reply to the above question, Denise might say: "Let your daughter know she's loved but growl at her for not taking her insulin, again."
Pebbles might say: "Get over it, Mum."
It's a grim dilemma, this one. And Hooper doesn't like answering the serious dilemmas much.
She's 23, slim, smart, funny and stylish; a social media starlet. The world should be her oyster. Which is probably what has made it so hard for Hooper to accept her condition - it's now a world in which she's constantly tired and thirsty, at times skeletal, at others swollen - a world demanding drugs and needles for survival.
She's been admitted to hospital a dozen times, "in and out of comas" in intensive care units, wrapped in silver hypothermia blankets, flirting with death.
And a couple of those times she lied to her parents - L'Estrange-Corbet and ex-husband, fellow designer Francis Hooper - about exactly where she was.
"I just bussed myself in to the hospital - it was like my little hotel. I didn't tell you because you didn't know I wasn't taking my insulin, and you would be angry with me," she says to her mother, sitting next to her in a big old leather armchair in their villa's sun-streaked lounge.
"We've had more than a few angry moments," says L'Estrange-Corbet. "Pebbles was in denial. She thought if she ignored [the diabetes] it might go away. But when you have a disease like that, you don't get better."
"Don't call it a disease. It sounds like you could catch it," Hooper fires back.
Hooper's getting better at taking care of herself. It's two years since she was last hospitalised. "She looks great now, she's got a new boyfriend, she's happy," says L'Estrange-Corbet. "But she's still not got her head around it completely."
Hooper admits this too, but feels she's now in the right space to do something about it and help others understand this chronic, insidious disease (sorry, illness).
She and her mother have taken on roles as ambassadors for Diabetes New Zealand; their aim is to turn the not-for-profit organisation into a "sexy beast".
In a bid to raise funds to increase diabetes awareness, the mum-and-daughter team has been "pulling in favours from friends and acquaintances" for an auction at this month's Blue Circle Charity Ball in Auckland. The hallway of the home Hooper shares with both of her parents, near Auckland's CBD, has been the collection depot for items generously donated by an impressive bunch of celebrities. Draped over a framed limited-edition Dick Frizzell print (appropriately named After the Ball), is the acquisition L'Estrange-Corbet is the most excited about: a signed pair of black rugby shorts from All Black captain Richie McCaw.
There's a ceramic apple from conceptual artist Billy Apple and a voucher for a night at the luxury lodge Kauri Cliffs. It pays to have successful friends.
"If we could make $1 million in that one night, then we could really educate people about diabetes," says Hooper. She sits at one end of the long sofa, her feet in white slippers tucked beneath her, a jittery little chihuahua named Jethro - rescued by the Humane Society and adopted by the Hooper household - on her lap.
Both Jethro and the family's older, more sedate chihuahua, Mr Big, are very interested in the chocolate biscuits L'Estrange-Corbet has fanned out on a plate on the coffee table.
They almost sigh when Hooper eats the last one. She hasn't had to make many changes to her mostly healthy eating habits and allows herself the odd treat, adjusting her insulin to counter it. There's always a tall glass of water within reach.
That's how Hooper first knew she was sick. The thirst. She was 19, freelancing as a fashion stylist, when she became "thirsty, sick and tired".
"I knew what it was from the beginning," says Hooper. Convincing medics, and her mother, took another 12 months.
Her parents could see she was rapidly losing weight. "Her backbone was sticking out and she was only 45kg. Friends thought she had an eating disorder," says L'Estrange-Corbet.
"Francis said, 'Oh my God, there's something really wrong', and Pebbles was sure it was diabetes. But frequent blood tests didn't show it.
"I told her she was a hypochondriac. 'You've been to the doctor three times and he told you you don't have diabetes.' On the fourth time I said, 'For goodness sake, Pebbles, this is ridiculous."'
L'Estrange-Corbet can't forget Hooper's three words when she received the diagnosis: "She said, 'I told you'. I couldn't understand it. This was a girl who doesn't have junk food or fizzy drinks. She's always drunk gallons of water. She's a teetotaller. When she was a baby, I brought her up a vegetarian."
"But it wouldn't have mattered anyway," Hooper chips in. "It's not all about food."
Type 1 diabetes is unrelated to bodyweight or lifestyle. It's an autoimmune condition, in which the body attacks the beta cells that make the insulin needed to convert sugar into energy. The pancreas eventually stops making insulin. About 5 per cent of the 225,000 New Zealanders with diabetes have Type 1 and are reliant on multiple daily injections of insulin for the rest of their lives.
As far as they can recall, no one on either side of Hooper's family has had Type 1 diabetes. Her father has elderly relatives in China with Type 2, but the conditions aren't related.
Hooper admits she felt "a little bit ripped off" to have been dealt an incurable condition.
"In the beginning I remember her crying and saying, 'Mum, what am I going to do?' I didn't know the answer, it was alien to me," says L'Estrange-Corbet. "We're all 'needlephobes' in this family, and here we were at the hospital learning how to inject. I didn't know anything about diabetes - the terrible side effects of not controlling it, which are really, really scary. At that point I didn't even understand that it could be life-threatening."
It wasn't long, however, before L'Estrange-Corbet discovered how fatal it could be. In May 2010, Pebbles was admitted to the intensive care unit at St Vincent's Hospital in Sydney. With the remnants of a chest infection, she had flown with her father to Australia for her grand-father's funeral in Canberra. When she complained of feeling unwell, Francis left her with a friend, Sam Williamson, in his Sydney flat. Struggling to find breath and drifting in and out of consciousness as her state worsened, Hooper was taken to A&E by Williamson, where nurses were mystified by her condition.
"Sam heard a nurse say, 'I wish these teenagers would stop taking drugs and getting drunk on a Friday night'. Then he remembered she was diabetic, and they realised what was wrong," says L'Estrange-Corbet.
Hooper had diabetic ketoacidosis; cells don't get the glucose they need for energy, so the body burns fat in a process that makes the blood acidic. Her body was essentially poisoning itself and leading her into a diabetic coma.
"I hadn't been looking after myself," says Hooper. "I was smoking back then; I wasn't taking my insulin all the time. Then it all went downhill so fast. It was gross."
"It was so touch-and-go. We could have lost her," says L'Estrange-Corbet. "When her father rang and said she was in intensive care, I've never moved so fast in my life - I was at the airport in an hour on the next plane to Sydney.
Hooper spent the next five days in intensive care and another week in a ward. "I was in a bed next to a lovely woman with leukaemia. She said, 'I'd rather have what I've got than what you've got,"' she says.
But that brush with mortality didn't shake Hooper into taking better care of herself. Still "in denial" about her diabetes, she would end up in hospital in Auckland another 11 times in the next year.
Every time terrified her mother. "She's vague, disoriented and goes in and out of consciousness," says L'Estrange-Corbet. "I clearly remember nurses saying, 'Come on Pebbles, stay with us'. She gets hypothermic and shakes from the cold; they wrap her in silver foil blankets inflated with warm air."
Her parents were, in turn, tough and soft on Hooper. There were fights, like when they discovered Hooper caught a bus to the hospital and stayed four nights - receiving infusions of glucose, insulin and potassium - without telling them.
"The last time we were with her at the hospital, a doctor blurted it out: 'You were only in here two weeks ago, you can't keep doing this to yourself. This can't continue,"' says L'Estrange-Corbet. "I said 'Okay, what's going on here? You rang and told me you were staying at a friend's house for a few days."'
"It happened twice without you knowing," admits Hooper. "I just knew how you'd react when you found out I wasn't taking my insulin ... I've got better at taking my medication, but I don't think I'm 100 per cent yet. It's still hard. I know it only goes away when you die."
Hooper injects herself about five times a day, and is adamant she won't switch to an insulin pump, a $5000 battery-powered device the size of an iPod, which continuously administers insulin. "Would you want a machine attached to you all the time?" she says.
The complications from diabetes seem to be unending for Hooper. Nail and skin infections take "10 times longer" to heal, and she's had four root canals - acid reflux has eroded her teeth.
She's had shooting nerve pain in her feet, and her hands and legs often swell with fluid.
Even when her parents massage her legs, she can spend "two weeks on the couch just waiting for the swelling to shift". And she sleeps for hours.
Like many with Type 1 diabetes, Hooper has struggled to manage a nine-to-five job. Last month, she finished up at Pencil, the Auckland stationery boutique she started up with World, her parents' fashion house.
"I'm in a bit of a free place at the moment. Hopefully something will come up soon; I don't enjoy not doing anything," she says. She's taken a trip to her dad's birthplace, Hong Kong, and at home, focused on the Blue Circle Charity Ball.
Charity runs in the family; L'Estrange-Corbet has always been a giver. She's worked with the Mental Health and Starship foundations on awareness and fundraising, and was an ambassador for the New Zealand Breast Cancer Foundation. Earlier this year, she was awarded an honorary fellowship from UCOL, in Palmerston North, for fashion design and charity work. Next month she's going back to Tanzania to visit the orphanage school she helped raise money for in 2005.
More than any other charity, she says, Diabetes New Zealand needs a helping hand in the battle for the donation dollar. "The Breast Cancer Foundation has incredible marketing, and that's where a lot of charities have fallen behind. So Pebbles and I have decided to make sure Diabetes New Zealand becomes a sexy beast."
"There's only so much money to go around, and so much the Government is willing to support," says Hooper. "The whole point of charity is getting awareness around your cause, and we need better education around diabetes. People still think you have to be fat and 50 to get it.
"Diabetes is already a huge problem and it's going to cost the Government millions more to look after sick people. We're Third World compared to Australia. The diabetes centres over there are like art galleries; my doctor was a 28-year-old guy who looked like [designer] Alexander Wang, in his Ferragamo suit and Gucci shoes."
Hooper says she's stopped attending her specialist appointments here because she never sees the same doctor twice. "They're great at their job, but they're just so bogged down," she says.
It's a prized ambassadorship for Diabetes New Zealand to have scored, as Hooper's public persona continues to bloom. She now has a regular television gig - a Friday night segment on U Late on TVNZ's U channel called That's So Buzzy, which sees her dissecting conspiracy theories - and, of course, the weekly Dear D&P column in this magazine.
Mother and daughter answer readers' questions independently of each other, so it's not until Saturday morning that they compare their ripostes.
"When Pebbles was younger, we'd get Francis to judge each weekend whose answers were best. It was always Pebbles'," says L'Estrange-Corbet."I used to say, 'Oh my God, Pebbles, I can't believe you said that'. But she's really come into her own now. I love her answers." They're both amazed at how similar their advice often is.
"Every single day someone will stop us in the street and say, 'I love your column'.
More than being a fashion designer or anything else I've done, it's that column that people recognise me for. I go down country and get treated like a superstar."
"Mum, anyone from Auckland who goes down country is treated like a superstar," says Hooper, in her signature laconic style.


• The Blue Circle Charity Ball for Diabetes New Zealand Auckland is on June 15 at the Pullman Hotel, Auckland. Tickets are $195, available from diabetes auckland.org.nz