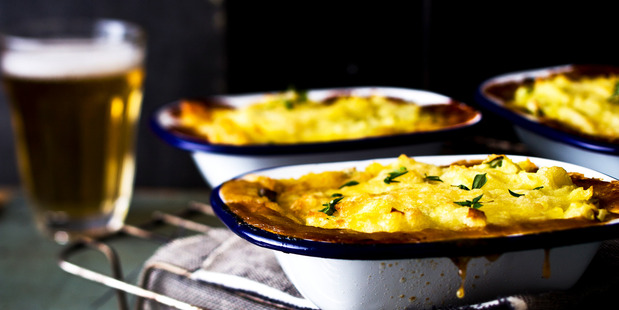 Makes 4 small or 1 large
Filling
• 1kg boneless lamb shoulder
• 2 onions, roughly chopped
• ¼ cup miso paste
• 3 cups water
• 20g butter
• 100g mushrooms, sliced
• ½ tsp thyme
• 2 Tbsp flour
• 2 Tbsp oyster sauce
• Salt and freshly ground pepper
Topping
• 200g agria potatoes, peeled and chopped
• 20g butter
• ¼ cup milk
• 1 spring onion, chopped
• ¼ cup tasty cheese, grated


1. Preheat the oven to 150C. Place the lamb, onions, miso and water in a casserole dish. Cover and place in the oven for 4 hours, or until the meat pulls apart very easily. Strain off the liquid and allow to cool. Remove the fat from the top. Shred the meat (separating out the fat to throw away) and set aside.
2. Heat the butter in a saucepan, then add the mushrooms and thyme. Cook for 3 or 4 minutes until softened. Add the flour and cook for 2 to 3 minutes.
Slowly add the liquid and the onions from the meat to make a thick sauce. Add the shredded lamb and oyster sauce, and season with salt and pepper.
3. Evenly spread the mixture into four little pie dishes.
4. Place the potatoes in a pot of salted water and boil until soft. This should take about 15 minutes. Drain and mash, then add the butter, milk and spring onion.
5. Top each pie with potato and sprinkle on some cheese. Return to the oven until crisp and brown.
- VIVA