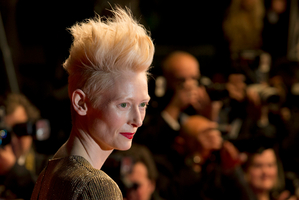 Tilda Swinton has embraced her Scottish heritage for Chanel's new campaign.
The actress stars in the label's Paris-Edinburgh collection adverts wearing a variety of cosy tartan garments.
Swinton was announced as the face of the line in February, after the clothing debuted at the Chanel Metier d'Arts annual fashion show held at the Linlithgow Palace in Scotland at the end of last year.
Among the looks sported by the actress are a striking white regal overcoat complete with a high collar and embroidered detailing.
She also appears in a dramatic profile pose wearing a traditional navy coloured jacket with red checked detailing on the neckline and cuffs, this pattern is matched in the bejewelled box clutch she holds in her hand.
Another look from the collection is a purple pleated coat, which has different shades of the colour running throughout the design.
Chanel creative director Karl Lagerfeld shot Swinton against a backdrop of medieval tapestries, which can be seen in the zoomed out images from the campaign.
The rich tartan and ornate embellishments, such as jewel-encrusted brooches, bring a new twist to the transitional season collection from the iconic label.
Lagerfeld previously explained why the 52-year-old Oscar-winning actress was the perfect choice to advertise the line.
"[Swinton is also] a modern woman, a timeless icon of elegance," he told WWD.
Her Scottish ancestry matches the collection's inspiration perfectly.
Lagerfeld photographed Swinton at the beginning of the year at the Chateau d'Ecouen, a castle from the Renaissance period located in France.
- Cover Media