French chef Nic Poelaert will cook for one night at The Farm at Cape Kidnappers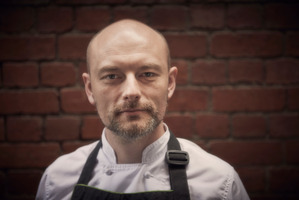 Nic Poelaert is a star of the Melbourne restaurant thanks to his French flair and passion for growing and foraging for the finest seasonal produce. From a small village in France, his career has seen him garner experience in Scotland, Australia - where he worked at the original Vue de Monde - back to London for a short time with Gordon Ramsay, and again in Scotland where in 2006 he was voted "Rising Star of the Year". His career changer, however, was working at Michel Bras in the South of France - a restaurant that features regularly in the San Pellegrino top 10 restaurants of the world list.
With his Australian wife Tara, Poelaert moved to Melbourne, where he has since won numerous awards, and is now running his second restaurant, Brooks of Melbourne.
His food has been described as poetic and now he is coming to New Zealand for one night only at The Farm at Cape Kidnappers in Hawkes Bay. The event is a Bastille Day celebration and will see Poelaert hold an exclusive class where he will share some of his Gallic cooking techniques, before preparing and hosting a dinner with wine raconteur Brett Newell from Louis Roederer Champagne and Joseph Drouhin wines.
Poelaert shares his culinary passion exclusively with Viva.
Tell us about growing up in a small village in France and how that influenced your love of food and decision to train to be a chef at the age of 14?
I am from a small village in the north of France near Calais, called Cappelle-Brouck. When I was a child, I used to walk to the farms to get eggs, milk, vegetables, or any rabbits, poultry my mum would cook. I never realised or appreciated it until in the last 10 years, and to think how lucky we were to have everything within a 5km radius of our home. We used to kill a pig and a cow each year and share it with two of our neighbours. We used to catch our own pigeons with a net, hang them and pluck them ourself. We used to fish for eels in the canals.
In 2006 you were offered a position in the prestigious three-Michelin star restaurant, Michel Bras, in the South of France. This restaurant is open only between April and October and turns down applications from chefs from all over the world. You say your greatest culinary inspiration comes from the Bras family. Please elaborate?
The Bras family really changed my way of thinking and my cooking has changed since working there. I am now looking to work with the seasons, in the seasons. I will not use asparagus at the start of their season, as the second batch of asparagus is always better and sweeter and greener. The same applies with fennel and almonds.
Working in the Bras kitchen was something very special. I was separated from my wife for close to a year. We had to change our wedding date twice for me to be able to work there. At my first restaurant in Melbourne, Embrasse, we had a dish which I also now have at Brooks, called the Meli of Vegetables. This dish is a souvenir of Michel and Sebastien Bras and the story behind their dish called the Gargouillou. Our Meli changes from lunch to dinner, and it explains our philosophy of growing our ingredients, foraging for some and having a very close relationship with our local farmers. It sometimes has [more than] 60 ingredients, all prepared twice a day.
What is your food philosophy?
Simplicity, purity and freshness.
Would you describe your cuisine as modern French?
It has been described as modern French, but I don't know what my cooking is ... I cook what I want to cook, with what my friends, farmers and producers give to me. I trust them. It's good, made with passion, respect and traditions. I don't think that because it is organic it's better; organic looks after the terroir and the mud, and traditions.
Tell us about your love for gardening and foraging?
It probably came from my dad, he still grows his own potatoes, leeks, lettuce, carrots, celeriac, strawberries and raspberries. My grandfather used to sell vegetables at the markets and grew some in the village of Clairmarais, on floating garden beds on the canals.
Tell us about your restaurant Brooks of Melbourne?
Tara and I opened Brooks with Gerald Diffey and Mario Di Ienno, we have known each other for the past five years and have been very close and best friends since. They own a bar in Carlton North in Melbourne called Gerald's Bar, they have been a drive for me, mentoring me over the past five years. We wanted to create a restaurant that was a cross between Embrasse and Gerald's Bar. The food at Embrasse was very unique and personal, the atmosphere at Gerald's bar is very unique and personal. We now have Brooks.
Melbourne food critic John Lethlean describes you as having "found your mojo" with Brooks. Do you agree?
I was very happy with Lethlean's review. He got it. He understood what we wanted to create at Brooks. It is a very personal restaurant made by us for the customers and only for the customers. Yes, I have found my mojo.
Tara and I are very lucky and humbled to have a team of staff of a very high calibre working for us. At Embrasse, we had only 45 seats, an a la carte menu, but 95 per cent of our customers wanted an eight-course menu. We could not turn tables. We couldn't grow any more, and it was very expensive to run.
Gerald and Mario showed us the Brooks site when it came on the market and we loved it. At Embrasse, Tara and I were doing everything ourselves. We have a son and I had half a day off a week. I was sleeping five to six hours, getting up to go to the market, forage, etc.
Now, because Brooks is a larger operation, I can afford to pay someone to top up the toilet paper every day ... and I can concentrate more on the cooking.
What do you love right now about being a chef?
I like the lifestyle of this industry.
What should guests look out for at the dinner you will be serving at Cape Kidnappers?
Texture of ingredients will play a big part of this dinner.
You will be sharing the night with Louis Roederer Champagne and Joseph Drouhin wines. How will this influence your approach?
There are wines that need to be appreciated by the food. I do not want the food to overtake the wines, they need to work together in parallels. I do not use much cream or butter.
The dishes will be light and pure in flavour.
What experience do you have of New Zealand cuisine?
I love having New Zealand chefs in my kitchen, they are hard-working and have a good palate. I have three New Zealanders in the kitchen at the moment including my sous chef, Chris. Unfortunately, I hear a lot that New Zealand produce is exported and not available for chefs. You guys should keep it for yourselves and get us to come and get it. New Zealand has great produce and a climate for it.
Describe your most memorable meal?
Tara came to visit me once while I was working at Bras. We had dinner, it was very special to see each other. It was a beautiful day outside and I remember that we ordered the cheaper degustation menu because that was all we could afford, but Michel and Sebastien sent us the most expensive menu and only made me pay half of the bill. Our table was booked for 8.30pm, we arrived at 6pm just to enjoy the view and sunset through the large windows in the dining room.


French flair
Current favourite ingredient?
Meringue for the texture.
How would your staff describe you?
Quiet, hard, fair, open-minded, not French.
Top culinary tip?
Cook a whole chicken at 90C for two-and-a-half hours.
Pantry cupboard essential?
Fish sauce for seasoning.
Kitchen appliance you can't live without?
Dariol moulds. We pre-portion our herbs and flowers for each dish in dariol moulds.
What keeps you awake at night?
My son or accountancy problems.
Desert island dish?
A Scottish clooty dumpling with a Drambuie custard.
You're off duty - what do you cook?
I love a good steak, pho (a vietnamese soup/ broth), and curries.
Guiltiest pleasure?
Four to five good coffees a day. I need it to go through to the end of service.


• Chef Nic Poelaert, Bastille Weekend Celebration, Friday, July 12 and 13, The Farm at Cape Kidnappers, Hawkes Bay.
$800 a person, per night, includes pre-dinner drinks and canapes, dinner by Nic Poelaert on Saturday night, which will be matched with Louis Roederer and Joseph Drouhin wines, special cooking demonstration planned for Saturday morning with Nic Poelaert, full breakfasts, use of unlimited green fees or 50-minute massage a person.
To book, ph (06) 875 1900 or reservations@capekidnappers.com. For more info, go to capekidnappers.com