Address:
3 O'Connell St, City
Phone:
(09) 377 1884
oconnellstbistro.com
Cuisine:
Bistro
Rating:
9.5/10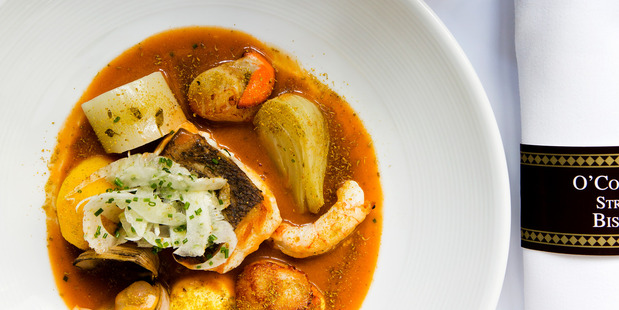 When dining is this good, it's like a dream. One from which I simply don't want to wake up.
We ducked in from the rain and the night through the unassuming doorway, and as soon as the heavy glass door gently shushed closed behind us, found ourselves in the warm embrace of O'Connell St Bistro.
Here in this cosy inner-city bistro, everything is as it should be; the wait staff are relaxed and impeccable, smart and thoughtful. Their extensive knowledge is delivered in a manner that wards off any pretentiousness and protects diners from feeling self-conscious in any way. The dining room is not lavish, nor does it need to be - it's a bistro after all.
There's a fresh ingredient in the kitchen here with the appointment late last year of a new head chef, Alex Strobach (ex The French Cafe). The previous chef's tenure was for 12 years and during that time, well-deserved accolades and awards were heaped upon him and restaurant owner, Chris Upton. Now Upton looks to have made another clever decision in teaming up with Strobach who has left well alone with the continued inclusion on the menu of some of their reputation-building signature dishes - the pappardelle with braised rabbit and parmesan being one - but introduced new dishes that sound so irresistibly and classically attuned to a bistro that I sense another long chapter of brilliance may have just begun.
Between mouthfuls of the crayfish ravioli, I kept pausing to fully absorb the magnificence of it. The large square of tender pasta, stretched over a generous mound of crayfish forcemeat, lay in a consomme of smoked ham hock and peas.
This was a pea and ham combo like your grandmother never made - thin and clear, yet bursting with a perfectly balanced profile of smokiness and saltiness, punctuated by the freshness of green peas. My dining darling was immersed in his own seafood odyssey, with scallops that were plump and juicily sweet. Dark smudges of caramelised pan juices added to their richness, and parcels of witloof wrapped in serrano ham were ingenious.
Not a shared plate in sight either. Can you imagine how serene it was to not be greedily reaching across each other, stuffing a mosaic of different dishes into ourselves, hoping that they'd find some way of communicating with each other?
To have a rest from this trend is nothing short of blissful. And when your food arrives at O'Connell St Bistro, it is placed in front of you and then something else rather marvellous occurs: the waiter buggers off. Hurray! There's no need for a lengthy explanation of each ingredient, every technique used, because it all makes sense in the first place. It meant we got to have our own experience of the food without interruption. I found myself letting out a sigh of relief that I wasn't even aware I'd been holding in for the past few years.
Our mains were equally dazzling. A beef cheek was soft, dark and gelatinous. It settled into a potato mash so smooth and creamy that I momentarily forgot my manners and used my finger to get the last smear from the plate. No one saw, I promise.
The market fish was deliriously good. A perfectly cooked snapper fillet crowned a plate of juicy clams, scampi and scallops alongside braised and fresh fennel, softened leeks and perfectly turned potatoes that hint at saffron. The sauce, a cross between a bisque and bouillabaisse, was richly orange, sweet and musky and dabs of rouille were gloriously garlicky .
Desserts? Well let's just say they were another opportunity for the kitchen to shine yet again.
By the end of any truly great dinner out, I am left in a dreamy state, wistfully wanting the evening to go on forever, and more often than not I end up ordering coffee just so that I can linger for a little while longer. Perhaps my dining companion is of the same persuasion because he ordered an irish coffee, of all things. The diplomatic barman claimed that they get at least half a dozen orders every week for this nostalgic beverage. Who knows if it were true or not. At O'Connell St they're so wonderfully polite that they may not have had an order for one for the last decade but they'd never let on. They know that their role, offering extraordinary food, an outstanding wine list and one of our city's most intimate dining rooms, is not to burst your bubble. We left feeling well and truly wooed.


From the menu: Bluff oysters $5 each, pan-seared scallops $25, crayfish ravioli $28, market fish $42, beef cheeks $38, sides - roasted pumpkin, green beans and broccolini $9 each, chocolate mousse $16.50, apple beignets $16.50
Drinks: Fully licensed