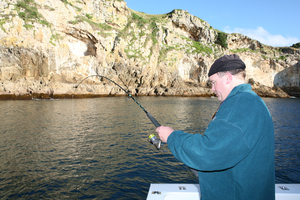 Snapper fishing is changing with the season, and there are two main options available for those looking for a feed of fresh fish.
As waters start to cool and fish move out to the warmer depths, one option is to stick around the rocky shallows and fish unweighted baits on light line. This works through summer also, but takes a little more investment of effort than that involved in dropping ledger rigs in the channel. But it works right through the winter, so is a good skill to develop.
It is similar to the approach of the soft bait aficionados. In summer they do well working the channels like the bait fishermen, and in winter they also do well throwing lures into the white water and the wash around the rocky edges.
The other option is to head out into deep water, when weather conditions allow, and fish where the action with birds and dolphins can be found, or fish where bottom contours change.
But straylining in the shallows is always a good option. It works all around our coasts wherever current is flowing past a rocky point or reef.
Straylining is active fishing. Unless targeting big snapper at places like the top end of the Coromandel Peninsula or around Great Barrier Island, you don't need a trace.
A continuous flow of berley approach has been producing well along the eastern shoreline of Rangitoto Island, on the seaward side of Kawau and Tiritiri Matangi Islands. So is casting green or brown soft baits on light jig heads in the same areas.
At Little Barrier Island, fishing on the sand in 10-15 metres along the edge of kelp beds in the first hour after the tide turns is working well, with plenty of snapper in the 35cm range but not a lot of big fish.
Fresh water
Fly fishing is finally picking up at small stream mouths on the Rotorua and Taupo lakes, and trout have started running up streams to spawn. Harling in the evenings is also worth trying as the bulk of the fish are still feeding actively putting on condition before spawning.
Bite times
Bite times are 12.10pm today, and tomorrow at 12.40am and 1.10pm. These are based on the moon phase and position, not tides, so apply to the whole country.
Tip of the week
Berley can be supplemented by throwing chunks of bait at different angles around the boat. This is called ground-baiting, and is a good use for old bait that has been refrozen and is too soft to use on the hook.
• More fishing action can be found on Rheem Outdoors with Geoff, 6.30am Saturdays, TV3.