Keen stand-up paddle-boarders make light of winter conditions as the season starts.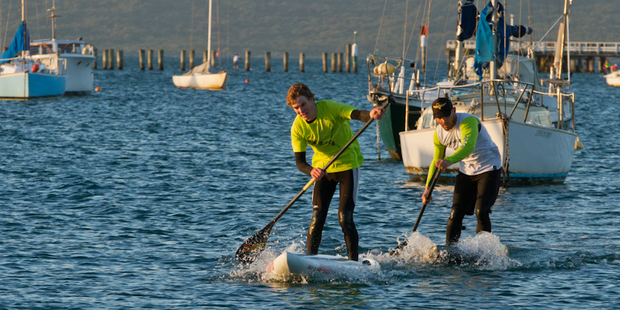 Paddlers of all skill and fitness levels can enjoy racing in the winter series. It might be wet and cold but that is no excuse for not getting out on the water this winter.
The Starboard Winter Series, which attracted more than 80 stand-up paddle-boarders (SUP) last year, restarts with an eight-race season beginning on June 4 at Auckland's Okahu Bay.
Event director Victoria Stuart, who loves "walking on water", said SUP had grown hugely in Auckland in a short time and the low-key Tuesday-night sessions before sunset are the ideal way to get fit.
All you need is a sense of adventure to brave the cold.
"It's a pretty simple 4km course from Okahu Bay around the breakwaters and Hobson Bay but a lot of fun when you throw in wind, currents and the odd high-speed-ferry wash," said the 37-year-old mother, who has a sporting background in skiing, yoga and surfing.
Anyone who uses the "it's too cold" excuse is told to harden up.
"The wind chill can make it a bit uncomfortable, especially if you go for an unplanned swim, but usually it's more like going for a run.
"If you're moving you're sweating so not cold," she said.
"And there is so much high-tech apparel, like Sharkskin, around these days that you can't really use the cold as an excuse."
The course varies a little each week depending on conditions as it has to be finished in less than 30 minutes before it gets dark.
The 3.6km to 4.5km courses help experienced SUPers maintain their racer's edge over the colder months.
There are all-round SUP surfboard and race-board categories and there is also a 1km option for novices or 2km race for junior paddlers who use more sheltered waters.
Stuart said newcomers wanting to have a crack at SUP boarding outside the competition could book lessons and rent boards from Felipe Alonsos at Fergs Kayaks.
There was a high rate of success in attracting new athletes to the sport.
"Newcomers seem to progress really quickly into complete addicts," she said. "The feedback is always positive, there's a good vibe, friendly people and that brings them back for more.
"Just about anyone can jump on a board and be stand-up paddling in minutes. I think the most fun part is the 'stoke' - the rush that you get from gliding over the water or surfing a wave."
The Starboard Winter Series is as competitive as it is social and attracts athletes from all walks of life.
The shower, beer and catch up at the Royal Akarana Yacht Club bar after racing is as important as the competing.
"SUPers are a rather competitive bunch with lots of athletes crossing over from other codes who love to compete and win. This is great, because you really push yourself to keep ahead of the paddler behind you and get a great workout in 30 minutes.
"Some people think you need really strong arms, but it's a balanced all-over workout where you are really using your whole body, legs, glutes, core, chest, back. To be honest, it feels much more like fun than a workout."
Stuart offers three simple tips for newcomers:
1. Always engage your core and deep abdominals - suck your belly in.
2. Keep your stroke short - don't take the blade past your feet.
3. Watch how the good guys paddle and then compare yourself on video.